The winger has finally completed his move to Chelsea FC after signing a four-year contract with the club in a deal worth €30 million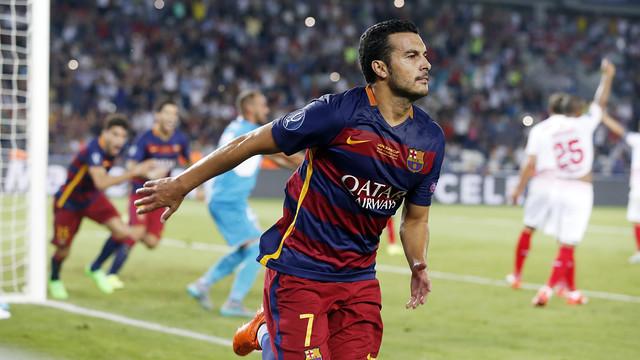 Barcelona has surely lost one of it's best players as legendary forward Pedro Rodriguez sealed a €30 million switch to Chelsea in a four year deal.
The striker had good times in his 11 years at the Catalan capital and will be regarded as one of Barça's legends as he was part of the team that kick-started Barça's total dominance in Europe and Spain.
As a tribute to the Canary Islander, FlyBarca presents: "Ten Amazing Facts About Pedro Rodriguez And His Transfer To Chelsea."
Facts About Pedro And His Chelsea Move
1. Pedro is part of Barça's famed academy La Masia as he joined the club in 2004 at just 17-years old. He spent 11 years at the club making him one of the longest serving player in the Barça squad before his switch to Chelsea.
2. In 2009/2010, Pedro became the first player in history to score in six different club competitions in a single year, a record only matched by Lionel Messi who did it in 2011.
3. Pedro played a total of 321 official game for Barcelona's first team, scoring 99 goals and providing an astonishing 46 assists of which more than 50% (25) went to Messi.
4. He was part of Barcelona's record-breaking squad that made history by winning all possible trophies (6) they took part in that season in 2009.
5. With his 99-goal haul, Pedro is the Barcelona player with the 20th most goals in the history of the Catalan club.
6. He is the player from the Canary Islands who scored the 2nd most goals ever for Barcelona, just behind Arocha who netted a total of 120 goals during the 1920s-1930s.
7. His last goal for Barcelona was a crucial one, he came in as an extra-time substitute to score the winner in the 115th minute to help Barça win the 2015 Spanish Super Cup with a 5-4 scoreline against Sevilla.
8. Pedro's childhood club, San Isidro have been saved from bankruptcy thanks to Pedro's move to Chelsea. The Spanish fourth-tier team from Tenerife will get €420,000 from the player's transfer to Chelsea, a sum which is more than four times their yearly budget (€85,000).
9. Pedro will become only the 10th Spaniard to ever play for Chelsea FC in the English Premier League.
10. Finally, Pedro won 20 trophies during his time at Barça and got an additional two with the Spanish national team making him the most successful footballer to have ever featured in a Chelsea squad.
Pedro is undeniably a Barça legend and will add a lot to Jose Mourinho's Chelsea side. He will forever be remembered as a Barcelona great.