Luis Enrique's men couldn't continue their winning streak and were humiliated by a well-organised Celta Vigo team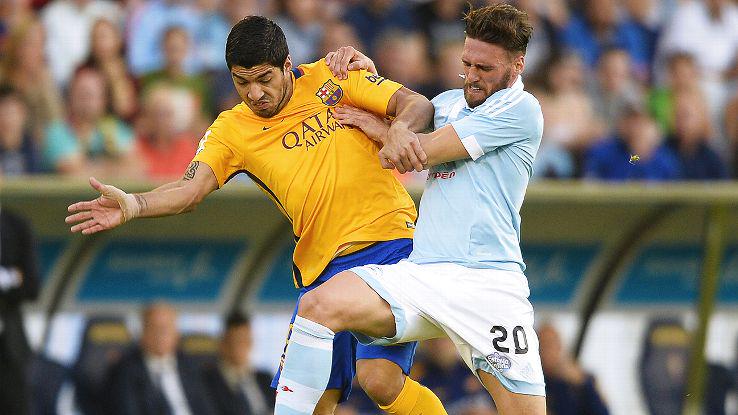 Ter Stegen – 4.5
Could have done better for Celta's first goal after getting a hand on the ball. Wasn't at fault for any of the goals has he just had a bad game.
Dani Alves – 4.5
Was off pace and didn't contribute as he always does. Was often beaten by an in-form Nolito. Was also bested by Aspas for Celta's second goal.
Gerard Pique – 4.5
Was back into Luis Enrique's starting line-up for the game and started pretty well, intercepting a great Celta cross early on. He lost focus after Celta's first goal and his misplaced pass let Aspas get his first.
Javier Mascherano – 4.0
Didn't have a great game at all. Was outplayed by Celta's attack in almost every period of the game and was nowhere to be found during all Celta goals.
Mathieu – 4.0
Replaced Jordi Alba at left-back after the Spaniard dropped out through an injury and didn't contribute a thing to the team. Was poor when dealing with the likes of Orellana and Hugo Mallo and could have done better to prevent Celta's fourth goal. A poor performance from him.
Sergio Busquets – 4.5
Had some good movements and touches early on but lost focus and couldn't cope with the dreaded Celta attack. Was replaced by Ivan Rakitic in the second half.
Sergi Roberto – 4.5
It's like he is better and more comfortable as right-back than as a midfielder. Couldn't break down Celta's defence and didn't seem to click with Messi and Co. Was often seen covering for Alves in defence.
Andres Iniesta – 5.0
Was Barça's best player for a moment. Created two great chances for Messi and Dani Alves who wasted both but slowly went off and could do nothing to help his team. Tried his best though.
Lionel Messi – 5.5
Was unlucky in the game. Kept out by Celta's goalkeeper on four occasions and hit the post when he should have scored. Also created goalscoring chances for Neymar and Munir but they fluffed their lines. Got the assist for Barça's goal with a great pass. Not his best game.
Neymar – 6.0
Could have gotten a goal in the first half but was denied by the keeper. Sprung into life in the second half as he single-handedly took on Celta's defence and eventually got his reward with a goal on 80 minutes.
Luis Suárez – 4.0
Wasn't given an inch of space by his markers, most especially Sergi Gomez. Didn't really help in attack and was literally switched off.
SUBSTITUTES…
Munir El Haddadi – 4.0
Replaced Sergi Roberto in the second half and tested Celta's goalkeeper. Could have done better after missing a chance from a Messi pass.
Ivan Rakitic – 4.0
Came on for Sergi Roberto in the 66th minute and didn't do much.