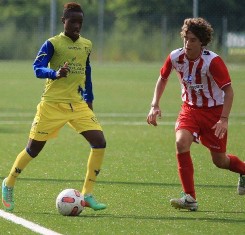 Italian Seria A side Chievo Verona are eagerly wanting to cash in on their 15-year old Nigerian-born prodigy, James Uhuamure, when the super kid striker comes of age.
Uhuamure, born in Reggio Emilio to Benin parents, has been in devastating form since he joined the Nazionale (U-15 Youth League) ranks, hitting the target in admirable fashion, and winning the top scorer awards for two seasons running.
He blasted 35 goals two seasons ago to run away with the top scorer's award and banged in 25 this past season to send the top spenders gunning for his signature.
Chievo are now wanting for the kid to hit 16 next year before they promote him to the senior team while still keeping the prying eyes of Inter Milan, AC Milan and AS Roma in check. [post_ad]
His father, Sunday Uhuamare, exclusively revealed that Italy are keeping a close eyes on his son, but says he would love him to play for Nigeria.
"Chievo are not letting him go for less because they invested so much for the boy when clubs refused to sign him for the Nazionale league because he wasn't 14 yet, " he says.
"His rise has so phenomenal so much that Italy are hoping to have him play for them in future but I want him to play for Nigeria.
"I feel so proud of my son because he has brought so much joy for the family and I'd really love him to don the colours of Nigeria.
"The city of Verona where Chievo is based also recognizes the talent of the boy and can't wait to have him in the first team.
"His blistering pace, confidence on the ball and goals are simply amazing and I wouldn't want Nigeria to miss this kid."
The kid wonder says he hopes to start donning Nigeria's colours with the Golden Eaglets.
"My dream is to play in the World Cup with the Golden Eaglets because I want to make my parents happy," he hopes.
"I love Nigeria so much and I want to play for my country.
"Italy have shown interest in me to play for them but the happiness of my parents is much more important to me."
Uhuamure started out with his first club Progetto Aurrora Calcio at the age of five before playing briefly for Mantove.
Reggianna grabbed him few years after before Chievo snapped him two seasons ago.