Welcome to another interesting moment with
SoccerNet Nigeria's
Special Reports
, and today we are giving you the
10 Best Players Who Refused To Play For Nigeria
. The list contains names of footballers who have their roots from Nigeria, but never played for Nigerian National Football Team and ignored all invitations to play for The National Teams.
Wait a minute did I just hear you call them unpatriotic? I don't see them that way,I see them as people who are ashamed of Nigeria,or people who believe playing for Nigeria is a total waste of time. Although the are a little bit justified for their actions considering the way our football is being managed in this country,but as they always say home is home.
With me not wasting anymore of your precious time, in decending order, here are the
10 Best Players Who Refused To Play For Nigeria
:
1. Oguchi Onyewu



Oguchialu Chijioke "Oguchi" Onyewu (born May 13, 1982) is an American soccer central defender who currently plays for Charlton Athletic FC. He has also played for clubs in France, Belgium, England, Italy, the Netherlands, and Portugal. Onyewu's parents moved to the United States from Nigeria to study in Washington, D.C. He made his first appearance for the senior national team on October 13, 2004, against Panama. Onyewu scored his first international goal in the 2005 Gold Cup, nodding home the extra time winner in the semifinal against Honduras, and was later named to the tournament Best XI. He has been capped by USA 64 times.
2. Angelo Ogbonna



Ogbonna was born to Nigerian parents who emigrated to Italy from Nigeria in 1988, settling in the city of Cassino in the central part of the country, but managed to obtain Italian citizenship only after his 18th birthday.
He made his debut for Italy back in November 2011 in a friendly 2– 0 win against Poland, where he came on as substitute He was also included in the Italian 23-man final squad for UEFA Euro 2012, but never played in any match during the competition. He finished the tournament with a Silver medal though. He currently plays for Juventus after his "big money" move from Torino.
3.Emmanuel Adebayor



Emmanuel Sheyi Adebayor was born in Lome, Togo to Nigerian parents and he currently plays for Tottenham Hotspurs in England and the Togo National Team. He previously played for AS Monaco, Arsenal, Real Madrid and Manchester City.
Adebayor was eligible to play for Nigeria but chose to represent the country of his birth. He was voted African Player of the Year in 2008 while playing for Togo. He has played for them 57 times.He is currently Togo's all-time top goalscorer with 28 goals.
4. Dennis Aogo: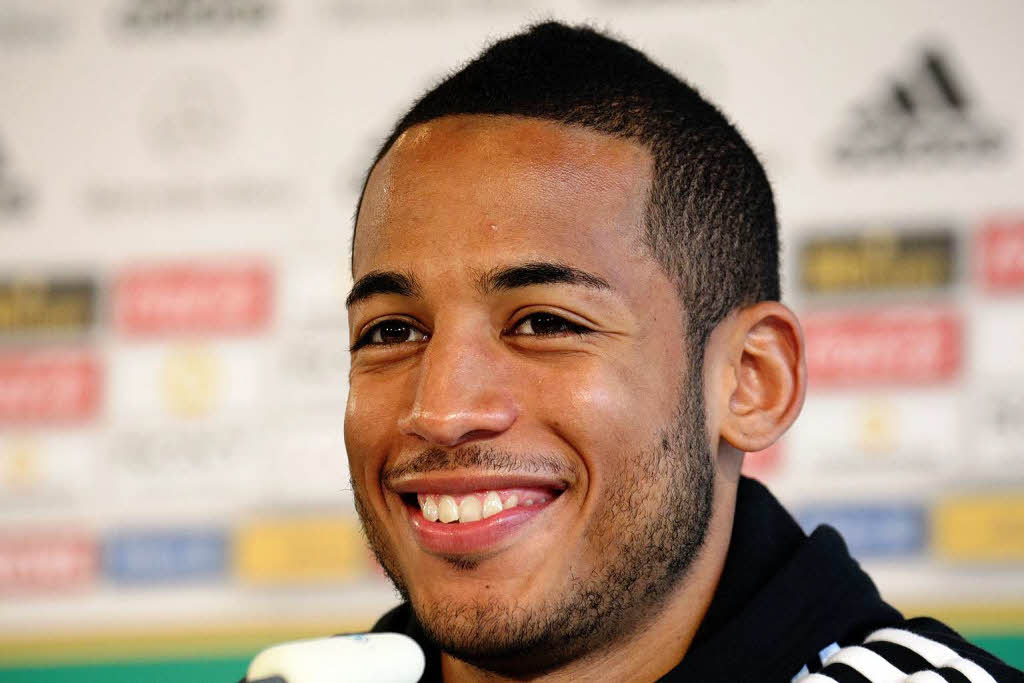 Born to a Nigerian father and a German mother, Aogo grew up in Oberreut, a suburb in the south-west of Karlsruhe. Aogo is capable of playing either as a left back or as a defensive midfielder. He currently plays for FC Schalke 04 (on loan from Hamburger SV) and the German national team.
Nigeria gave him the chance to play for them at the 2010 FIFA World Cup in South Africa but on the 5th of January 2010, Aogo announced that he will only play for Germany. He made his national team debut for Germany in a friendly match against Malta in a 3–0 victory on 13 May 2010, playing 79 minutes, before being replaced by Jérôme Boateng. He has been capped 12 times since then.
5. David Alaba: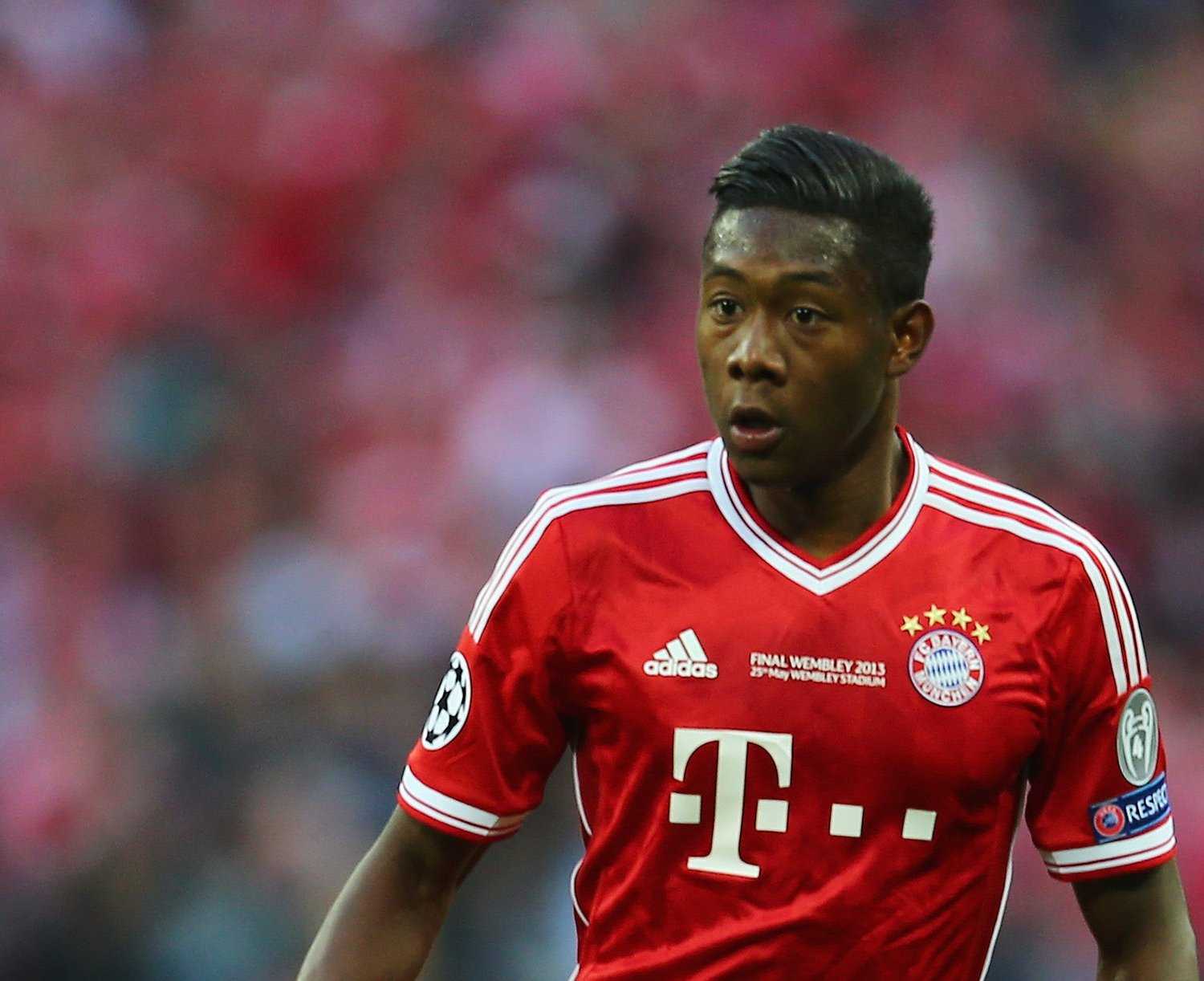 David Olatokunbo Alaba was born in Vienna to a Filipino mother (a nurse) and a Nigerian father, (a DJ and former rapper). He currently plays for Bayern Munich and the Austria national football team.
He has played a multitude of roles, including central midfield, right and left wing. In October 2009, he was called up to the senior Austria national team for a match against France. He made his debut in this game, making him the youngest player in the history of the Austrian national team. He has since being capped by Austria 26 times. He is unarguably one of the top left backs in football presently.
6. Stefano Okaka Chuka:



Stefano Chuka Okaka (born 9 August 1989 in Castiglione del Lago, Perugia, Italy) to Nigerian parents who later obtained Italian citizenship. Okaka joined the Roma youth system in 2004.
He is currently an Italian International who plays as a striker for Spezia Calcio on loan from Serie A club Parma. After gaining Italian citizenship in 2007, Okaka was selected for the Italian Under-19 side. He made his debut for the Italy U-20 team in 2008, scoring two goals. On 17 November 2009, he made his debut with the Italy U-21 squad in a match against Luxembourg.
In April 2014, Okaka revealed he talked with the Nigeria Football Federation about the possibility of him playing with the Nigeria national football team at the 2014 FIFA World Cup.
However, Okaka was included in the Italy squad for their friendly against Albania on 18 November 2014 by manager Antonio Conte. He made his debut as a substitute, replacing Sebastian Giovinco in the second half, and scored the winning goal at Sampdoria's ground the Stadio Luigi Ferraris.
7. Gabriel Agbonlahor: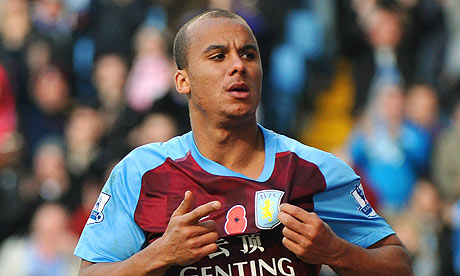 Gabriel Imuetinyan "Gabby" Agbonlahor (born 13 October 1986). Agbonlahor was one of four children born to a Nigerian father and a Scottish mother in Birmingham. Agbonlahor's ancestry qualifies him to play for Scotland or Nigeria at international level, but he chose to play for his homeland of England.
Agbonlahor is a product of Aston Villa's Academy and still plays for the club. He is also Aston Villa's all-time leading Premier League goalscorer. On 19 November, he made his international debut against Germany. He played for 76 minutes. Since then he has earned only three caps for the English national team. He made his first appearance in a competitive international on 14 October 2009, playing 66 minutes in the 3–0 win over Belarus in the last game of qualification for the 2010 World Cup. He was last called up to the squad in November 2011.
8. Patrick Olukayode Owomoyela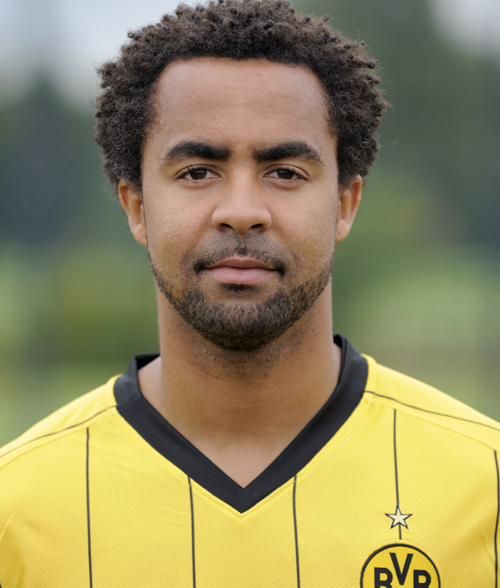 Patrick Owomoyela (born 5 November 1979) was born to a German mother and a Nigerian father. Owomoyela plays as a right-sided defender/midfielder.
He is a German footballer who is currently a free agent, having last played for German Bundesliga club Borussia Dortmund. He previously played for Lüneburger SK, VfL Osnabrück, SC Paderborn 07, Arminia Bielefeld, SV Werder Bremen,Borussia Dortmund and Hamburger SV II.
He made his debut for Germany in an Asian tour, playing 90 minutes in a 3–0 win over Japan, on the 16th of December 2004, in Yokohama. Since then, he has had 11 caps to his name.
9. Nedum Onuoah:



Chinedum "Nedum" Onuoha (born 12 November 1986) is footballer who plays for Queens Park Rangers. He is a defender, typically a centre back, but he can also play at right back or left back. Born in Warri, Nigeria, Onuoha was brought up in Manchester, England.
In March 2007, Onuoha received an international call up from Nigeria, but announced he would like to play for England at full international level. Onuoha has never been capped by England at international level.
10. Carl Ikeme:



Carl Onora Ikeme (born 8 June 1986) is a footballer who plays for Wolverhampton Wanderers as a goalkeeper. Despite his English birthplace, he has chosen to represent Nigeria at international level. He has been called up to the Super Eagles squad but has not yet played for them.
There is no gainsaying here, that if all these Nigerians in diaspora were integrated into the national team,Nigeria will be at the very top both on the African level and internationally.
Source: KokoFeed.com
[post_ad]