FC Barcelona Celebrate 115th Anniversary.
It is a beautiful day indeed as one of the greatest clubs in football history, FC Barcelona is 115 years today, 29th November, 2014.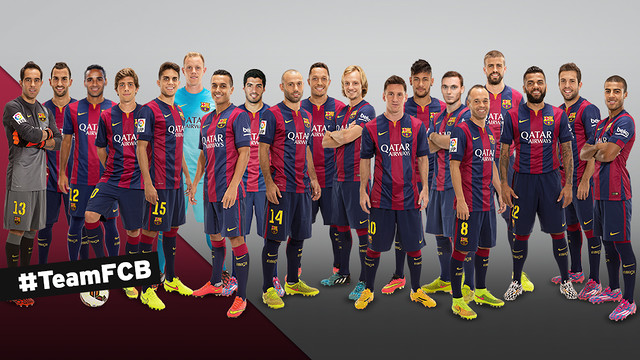 Barca Is 115 Years
The great Catalan club was founded on November 29, 1899 by a team lead by the Legendary Joan Gamper, and ever since then, the Blaugranas have grown to be one of the most successful football team in the world.
The Club's evergreen tradition and beautiful ethics has won them 22 Spanish La Liga, 15 European Trophies including 4 Uefa Champions League crown. Lest you don't know, no other club have achieved up to 15 European Trophies.
Also with its rich history, Barcelona can boast of 26 Copa Del Rey Titles, the most by any spanish club. They have also racked up 2 FIFA Club World Cup Titles which no other club has achieved more than once.
This is just to mention a few of the contents in the almost filled 'Barca Trophy Cabinet' which can boast of containing all possible football titles which makes it the most successful football club in spain with 81 overall official titles.
BARCELONA LEGENDS
Well, no club can compete with Barca in terms of number of Legendary names that graced the club as the Catalans have more than a thousand. I don't want to mention names because i am not ready to exhaust the ink. Even the Legendary La Masia, Barca's Academy has so many unforgettable names in World football. I will conclude this section by saying 'Camp Nou Is The Home Of Legends.'
BARCA IS MORE THAN A CLUB!
Mes Que Un Club is not just a slogan, it is a direct link to FC Barcelona stored in the hearts of Fans and Players. Indeed, Barca is more than a club with a rich history and a richer culture. Their ground, the Camp Nou which is the Largest in Europe with more than 99,000 capacity, is not just a stadium but a Holy Ground. Their fans, the Cules and Barcelonistas are not just fans but Lovers and Addicts. Their players, the Blaugranas are not just players but Stars and the Club is not just FC Barcelona but Our Home, More Than A Club.
HAPPY 115TH ANNIVERSARY TO THE GREATEST FOOTBALL CLUB IN HISTORY, FC BARCELONA. VISÇA EL BARÇA!