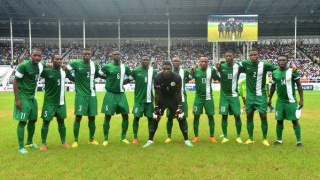 Nigeria's U-23 team, popularly known as Dream Team VI, escaped a plane crash on their way to Gambia on Sunday morning towards perfecting strategies for the African U23 Championship billed for Senegal, goal.com is reporting.
The Dream Team VI opted for the West African country after their trip to Morocco was cancelled owing to visa issues.
Goal gathered through one of Nigeria's U23 officials as at the time of writing this report that the pilot of the Arik Airline made and emergency landing in Accra, Ghana due to unexpected technical difficulties to the aircraft and has since been left stranded in the Ghana capital.
"Thank God for his goodness and his mercies we escaped plane crash on our way to Gambia, the pilot had to make an emergency landing in Accra we are still in Accra," a senior official of the team told Goal after the incident.
"We are still stranded here and we are yet to get any news from Arik officials."
The team is likely to depart Accra on Sunday evening after the Nigeria Football Federation might have arranged new travel plans.
More Nigerian Football News»
[post_ad] For the latest football news, follow us on Twitter and like our Facebook page.