Both teams go head-to-head in a mouth-watering encounter at the Vicente Calderon as the Catalans seek to continue their impressive form against Simeone's men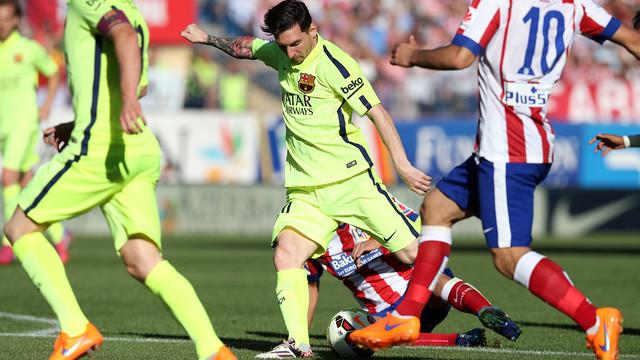 Image Credit: FC Barcelona CAT – Twitter
FC Barcelona take on Atletico Madrid at the Vicente Calderon on Saturday as both teams go head-to-head in a bid to maintain their 100 percent record in the 2015-2016 La Liga campaign.
Diego Simeone's men will hope to get a better result than last season's against the Catalans when they were beaten home and away and now is the best time as the Barcelona squad is weakened. However, with the help of thr deadly MSN trio, who destroyed Atleti last season, Barcelona are still tiny favourites to scoop this one. Here are ten amazing stats and facts about the game between Barcelona and Atletico Madrid on Saturday.
Stats, Facts And Head-To-Head Of Atletico Madrid Vs Barcelona
1. Barcelona have played an overall total of 222 official games against Atletico Madrid in all competitions, winning 97 and losing 75 times with 50 of the games ending in a draw. The Catalans scored 424 goals in the process and conceded 337.
2. Barcelona didn't lose any of their previous 10 Liga games against Atletico Madrid. This consists of 8 wins for the Catalan giants and two of the games ending in a draw. Also, since Diego Simeone became coach of Atletico Madrid, he only beat Barça on one occasion out of 13 trials. Losing 7 times and playing 5 draws.
3. In their previous 5 away games versus Atletico Madrid, Barcelona didn't lose in any of the games, this is their longest unbeaten streak against the Madrid team since 1972. In these 5 games at the Calderon, Barcelona scored 7 goals and conceded 3.
4. Atletico Madrid kept a clean sheet in each of their last three games in La Liga, the last team to score against them was Barcelona, the Messi goal that won the Liga title last season. The goal is also the only goal Atleti have conceded in their last 6 home games.
5. Mateu Lahoz is the referee for the Atletico Madrid vs Barcelona game, he has officiated two previous games between these two sides and both games ended draws. Both legs in the 2013/2014 Liga season.
6. Lahoz is a familiar referee with the Catalan giants, he has officiated a total of 18 games involving Barcelona with the Blaugranes surprisingly having a not-bad record of 13 wins and 5 draws, they've never lost a game in which Lahoz officiated.
7. Goalkeeper Marc Andre Ter Stegen is likely to start for Barça as Claudio Bravo is injured. He could become the 604th player to feature for Barcelona in La Liga if he manages to make his debut on Saturday.
8. Lionel Messi has scored a whooping 23 goals in 26 games against Atletico Madrid of which 19 of those were scored in La Liga making him the top scorer against the Madrid team. The Argentine is yet to open his Liga account this season and if he fails to score against Atleti on Saturday, it will be the first time in 10 years that Messi didn't hit the target in all of his first 3 Liga game of the season. The odds favour Messi as 11 of his 23 goals have been at the Calderon.
9. Amongst players in the current Barcelona squad, Lionel Messi has scoredd the most goals against Atletico Madrid with 23 strikes. Neymar comes second with 5 while Dani Alves has 2 goals vs the Madrid team with Suarez, Iniesta, Adriano, Busquets and Pique all with one goal each against Simeone's team.
10. Dani Alves, Andres Iniesta and Lionel Messi have the most assists (4) against Atletico Madrid among the current Barça squad. Suarez has 2 while Busquets and Alba has one each. Note: Xavi had 6 before he left.
The game takes place at the Vicente Calderon on Saturday at 8:30pm CET.