The centre-back didn't hide his feelings for Barcelona's arch-rivals saying he loves seeing them lose, whilst also saying he isn't moved with the whistling by fans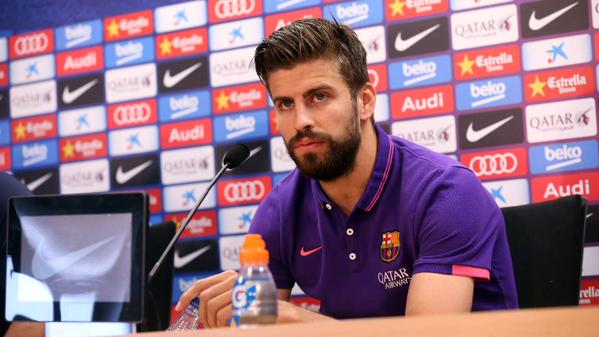 Image Credit: FC Barcelona – Twitter
Barcelona and Spain defender Gerard Pique spoke in a public press conference at the ckub after returning from international duty and the world cup winner had plenty things to say.
In the presser, Pique didn't hide his feelings about Real Madrid saying he loves seeing them lose. He also spoke on the current issue regarding the jeers and whistles thrown at him by Spanish fans, saying the situation won't change him and he won't leave the Spanish National Team anytime soon.
Pique also praised Uruguayan striker Luis Suarez by calling him the best Number 9 in the world and condemned the recent injury sustained by goalkeeper Claudio Bravo. Enjoy the full press conference, quotes via Grup 14.
Gerard Pique Full Press Conference
"At a sporting level, which is what worries me, I feel great, these two games with the National Team have been alright."
"I'm very happy. Yesterday I was out picking mushrooms. Today it's raining so there are probably going to be more."
"I think the whistling are due to the rivalry between Barcelona and Real Madrid and my comments about them."
"I was a supporter of the referendum and I participated at the Diada last year too and there was no whistling."
"I don't think this (the whistling) has anything to do with the relationship between Spain and Catalunya."
"I won't ever change my lifestyle. I am how I am, a very passionate person. If you like me or not that's ok."
"My relationship with Sergio [Ramos] is in the best place that it's been since we've been at the National Team together. It was cold before but now everything is alright."
"The whistling doesn't bother me, but it affects the team. I feel bad for them and for the coach as well."
"I'm here talking to you because I want things to be less tense and turn out for the betterment of the team."
"I'll try to get people to stop whistling, but there's not much I can do. It's not up to me."
"I always want Real Madrid to lose. I watched their semi-final game against Juventus wearing a Buffon shirt."
"I'm not sorry for anything. I'd do it all again a thousand times, I'd say everything I said."
"I talked to Iker before the Atleti game when they lost 4-0 and I told him 'I hope they score 4 on you'."
"I've been playing for Spain since I was at the Uunder-15s. I've played more than 70 senior team games and have always given my best."
"The last thing I'd do now is to leave the National Team, that would give the ones whistling satisfaction."
"Referring to Kevin Roldan during treble celebrations? It wasn't elegant, but no one is always serious. I'm proud of being a part of this Barça generation that won so much and during which Real Madrid didn't win much."
"If they're whistling because of Catalunya, then they're wrong. My commitment to the Spanish National Team is unquestionable."
"For me, getting whistled at the Bernabeu is like a symphony. If they're whistling because of the rivalry with Madrid I didn't do anything wrong."
"It wasn't meant as a lack of respect to anybody. It was just a joke like many others. It's just that Piqué said it"
"I don't represent the National Team for prestige, I've already won two trebles and a sextuple with Barça. I don't also go for the money, I earn 50 times more with Barça. I go because it's right."
"I support Catalan sport because they helped me a lot when I was a kid and I think it's the right thing to do."
"Tomorrow I'll go to the Diada festivities, like I do every year."
"Luis Suárez is the best striker in the world. I have no doubt about that. He's an excellent player and also excellent as a person."
"Bravo's injury is a concern. It's important because he won everything last season."