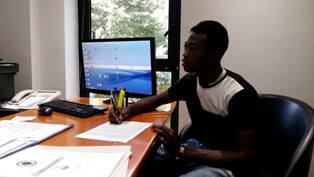 European champions Barcelona have made initial enquiries regarding the possibility of acquiring Nura Abdullahi in the near future, according to the defender's adviser.
The 18 – year – old has assisted AS Roma keep a cleansheet in their first two games in the UEFA Youth League and has picked up where he left off last season, scoring 2 goals in his first 3 games for AS Roma in the Primavera, which has caught the attention of Nou Camp suits.
"After the UEFA Youth League game (two weeks ago), Barcelona inquired about Nura, it's not something very serious at the moment but it's positive. I can't say they want him straight away," South African based intermediary Mohammed Lawal told allnigeriasoccer.com.
"It's just a normal inquiry made to Roma about a player that impressed in a game just to know more about the player and follow his progress from there on and see if he is someone they can go for."
Nura Abdullahi's economic rights still belongs to Spezia as the Little Eagles only farmed him out on a season – long loan to AS Roma, with a four – year purchase option inserted into the contract.
The settled price is 2.5 million euros for Roma to buy both Sadiq Umar and fullback Nura Abdullahi from Spezia next summer.
[post_ad]
For the latest football news, follow us on Twitter and like our Facebook page.