The Chilean goalkeeper has gone eight straight Liga games without conceding and is set to break his own personal record when Barça take on Atletico Madrid on Sunday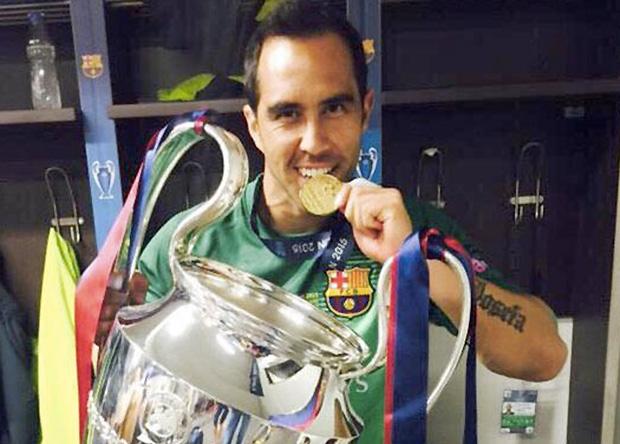 Image Credit: Barça Snacks – Twitter
As far as the Spanish La Liga is concerned, Barcelona goalkeeper Claudio Bravo is the hardest goalie to beat.
The Chilean joined Barcelona last summer from Real Sociedad and has proven to be one of the best acquisitions last season as the goalkeeper has shown good qualities when in between the sticks for Barcelona. Bravo is Luis Enrique's first choice goalkeeper in La Liga and the keeper didn't disappoint in his first season, rolling over his impressive form into the new season.
Claudio Bravo was without doubt the best goalkeeper in La Liga last season as he conceded just 19 goals in a whooping 37 games for Barcelona, a feat which earned him the prestigious Zamora Trophy. The shot-stopper also amassed an astonishing 23 clean sheets in the process, surpassing the previous club record held by former Barça goalkeeping legends Victor Valdes and Andoni Zubizarreta.
At the start of the 2014/2015 season, Claudio Bravo went eight straight games without picking the ball from the back of his net. He went 754 minutes without conceding and was only beaten by a Cristiano Ronaldo penalty on the 9th fixture of the season.
However, it seems as if Claudio Bravo isn't contented with these feats of last season and his hungry for more successes. The goalkeeper is set to break his eight-game streak record with the help from what he left off from the ending of last campaign.
The last time Bravo conceded a goal in La Liga was on 11 April, 2015 against Sevilla when he was beaten by Kevin Gameiro in a 2-2 draw. Since then, Bravo has gone eight games without letting the ball cross his goal line.
As a result, Bravo now has the opportunity to surpass his own record of 754 minutes when Barcelona take on Atletico Madrid at the Vicente Calderon next Sunday. The record will be broken if Barcelona manage to shut Simeone's men out for the first 35 minutes of the game.
Claudio Bravo's Clean Sheet Streak
RECORD FOR 2014/15 SEASON
Week 1 – Barcelona vs Elche 3-0
Week 2 – Villarreal vs Barcelona 0-1
Week 3 – Barcelona vs Athletic Bilbao 2-0
Week 4 – Levante vs Barcelona 0-5
Week 5 – Málaga CF vs Barcelona 0-0
Week 6 – Barcelona vs Granada 6-0
Week 7 – Rayo Vallecano vs Barcelona 0-2
Week 8 – Barcelona vs Eibar 3-0
ONGOING STREAK 2014/15 – 2015/16
Week 32 – Barcelona vs Valencia 2-0
Week 33 – Espanyol vs Barcelona 0-2
Week 34 – Barcelona vs Getafe 6-0
Week 35 – Córdoba vs Barcelona 0-8
Week 36 – Barcelona vs Real Sociedad 2-0
Week 37 – Atlético Madrid vs Barcelona 0-1
Week 1 – Athletic Club vs Barcelona 0-1
Week 2 – Barcelona vs Málaga 1-0
The 1-0 win against Malaga was Bravo's eighth consecutive clean sheet in La Liga but he is still on 720 minutes meaning he needs another 35 to beat his previous record of 754.
Note: Bravo didn't feature in Barça's 2-2 draw against Deportivo La Coruna on week 38 of last season's Liga campaign.
Claudio Bravo also has the chance to reach 1000 minutes without conceding with the Atleti game being his toughest stop. If he manages to keep a clean sheet against the Madrid team, he'll need clean sheets against Levante and Celta Vigo and keep a shutout in the first four minutes against Las Palmas.