The Brazilian didn't make UEFA's final three-man nominees and finished in 5th place much to the surprise of football followers around the world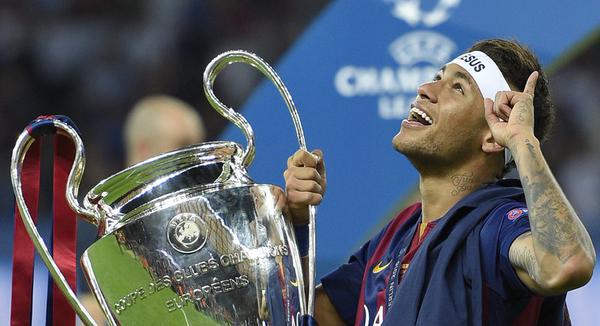 UEFA announced on Thursday that Lionel Messi, Luis Suarez and Cristiano Ronaldo are the final three nominees for the 2014/2015 Uefa Best Player award with Barça's star Neymar Jr finishing in an unexpected 5th place.
The exclusion of Neymar in the top 3 came as a surprise as the star was expected to be among the final nominees due to his outstanding performance in the 2014/2015 season.
Neymar finished the season as Barça's second highest goal scorer on 39 goals and was third highest goal scorer in La Liga just behind Cristiano Ronaldo and Lionel Messi.
Apparently, the Brazilian was top scorer in 2 of the three competitions Barça took part in last season as he finished top of the scorers chart in the UEFA Champions League (joint with Messi and Ronaldo) and the Copa del Rey (joint with Iago Aspas).
Neymar doesn't just score these goals, he scores them in crucial moments against the big teams. In the UCL last season, he scored in both legs of the Quarter final against PSG, both legs of the semi-final against Bayern and got the winning goal in the final against Juventus.
In La Liga he scored against Real Madrid, Atletico Madrid, Sevilla and Athletic Club whilst also netting in the Semi-final and final of the Copa del Rey.
Aside from goals, Neymar was also significant for Barça in other aspects. He causes problems for the opposition defence leaving more space for Messi and Suarez to pounce on and score.
Neymar made 8 assists and was the only player alongside Messi to execute more than 100 successful dribbles in La Liga last term. He beats players at will and also influence Barça's counter attack.
Neymar Exclusion From The Top 3 Uefa Best Player Award Nominees Is Total Injustice
The debate here is 'why wasn't he nominated among the final three?' In my candid opinion, only Lionel Messi performed better in Europe last season than Neymar. Messi of course is favourite and is almost certain to win the award. Yes, one of Suarez and Ronaldo shouldn't be there and should create space for Neymar.
The irritating part of the issue is that he didn't even finish 4th on the list but 5th, behind Juve's Gianluigi Buffon. That for a 39-goal treble winner is unfair.
We might understand that this is due to the fact that the voters were humans, Journalists, but naturally and undeniably, Neymar deserved to be among the final three nominees.