Barcelona will be presented with the 'Badge Of Honour' membership by UEFA with Zubizarreta, Belletti, Puyol, Abidal and Iniesta all set to take part in the Champions League draw on August 27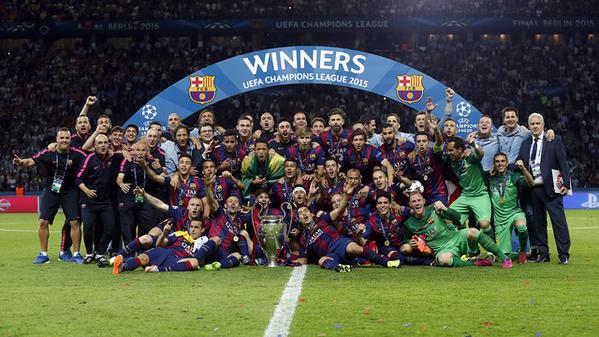 Barcelona will play a significant role in the upcoming Uefa Champions League group stage draw in Monaco on August 27 as they will be recognised by Europe's football governing body after becoming a member of the 'Badge Of Honour' for their fifth UCL triumph.
Barcelona's 3-1 win over Juventus in June ensured they join the likes of Real Madrid, Bayern Munich, AC Milan and Liverpool as clubs to have won a minimum of five European Cup/Uefa Champions League trophies. Ajax is also part of the group after winning three successive European Cup titles.
To receive the honour, there will be a representative for each of the squad that won the trophy with Barça and the players that will take part are Andoni Zubizarreta (1992), Juliano Belletti (2006), Carles Puyol (2009), Eric Abidal (2011) and Andres Iniesta (2015).
Current Barça captain and 2015 UCL man of the match, Andres Iniesta will bring out the stage while the other four former Barça players will be in charge of drawing teams from their respective pots.
After the group stage draw, the awards for the award for the Best Male Player in Europe will take place with Lionel Messi, Luis Suarez and Cristiano Ronaldo the nominees.