The attacking trio is the most lethal in world football breaking records last season as they enter into the new campaign eyeing another Barça historical record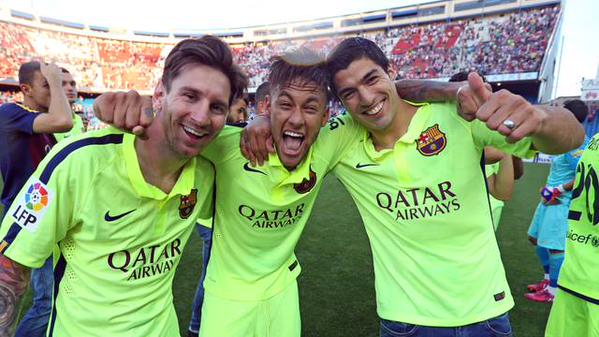 Barcelona start their defence of the treble when they take on Athletic Bilbao in La Liga opener on Sunday and their deadly attacking Trio of Lionel Messi, Luis Suarez and Neymar are gearing up for the season.
After a 122-goal haul in the 2014-2015 season that saw the trident break the record for highest number of goals scored by a trio in one season, MSN are back again eyeing to break Barcelona club record of most goals scored by a trio in a single calender year.
The record is held by the 2012 attacking trio of Lionel Messi, Xavi Hernandez and Cesc Fabregas who bagged an astonishing 101 goals. It was Messi's record year as he hit 79 with Xavi and Fabregas grabbing 11 goals each.
The Messi-Suarez-Neymar trio aren't far of the mark as they have bagged a joint 86 goals in official competitions for Barça this season. Messi leads the line with 38 goals, Neymar with 25 and Luis Suarez with 23 goals.
It means the trident need just 12 goals to beat the record, a feat Lionel Messi can achieve single-handedly as Barcelona still have at least 26 games to play in 2015.
Neymar is still a missing prong of the trident as he is out with Mumps but is expected to return to action in Barça's second Liga game of the season against Malaga at the Camp Nou next Saturday.