The Barcelona star has been out with Mumps and didn't feature for the Catalans in their previous two games this season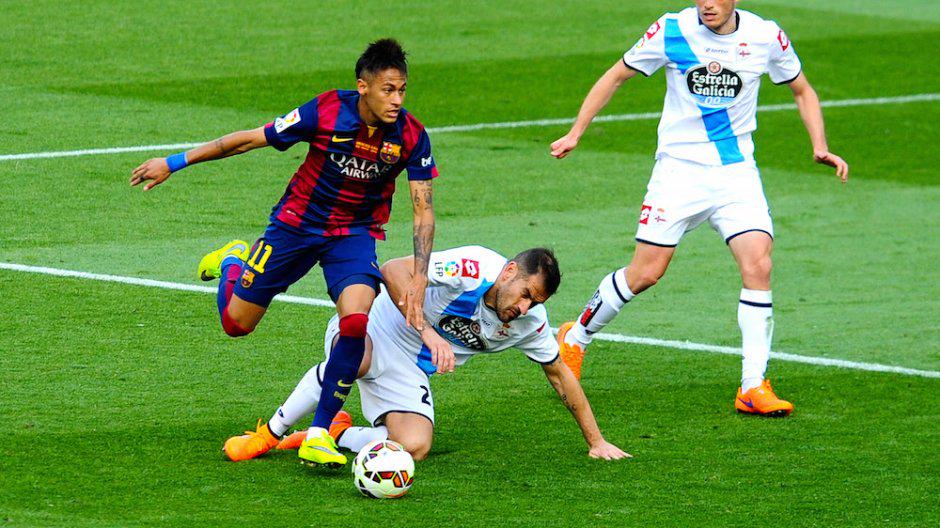 The bad news broke on Sunday, August 9 when Barcelona medical staffs announced that Neymar would miss the next two weeks of action for the club after being diagnosed with parotitis (Mumps).
This meant the Brazilian won't feature in Barca's Super Cup ties against Sevilla and Athletic Bilbao.
Everyone acknowledged the fact that the 23-year-old will be thoroughly missed but Barca fans weren't hitting their heads on the wall as they believed Pedro, Munir, Sandro are all standby replacements.
This isn't the case however as the Brazilian's absence in the Barca squad has dealt a huge blow to the team's performances lately.
This was clear in Barca's scrappy 5-4 win over Sevilla in the Uefa Super Cup. Neymar was absent and was replaced by youngster Rafinha Alcantara.
Although, Rafinha had a good game, scoring Barca's 3rd goal of the night, he didn't do half of what Neymar always does on that left wing position.
The most significant is the manner at which Neymar partners with Lionel Messi, capitalizing on most of the Argentine's deadly long diagonal through-ball passes from the right which makes scoring goals more likely and forces the opposition to pay more attention to defense.
Rafinha being left-footed is not capable of pouncing on Messi's diagonal through-balls which was clearly seen during the game against Sevilla.
Aside from the game against Sevilla, the recent Spanish Super Cup 4-0 loss against Athletic Bilbao is another typical example. One might say, "but Pedro is right-footed?". Yes, but Pedro is not Neymar and both players have a totally different style of play.
There is one thing that Pedro lacked when on the ball in the left-wing during tight games: breaking through a tight defence. On multiple occasions against Bilbao, Pedro gets the ball on the wing, moves the ball a little forward, turns back and passes. Yes Neymar also does that but not too often as he always has plans B, C, D and E.
Whenever Neymar gets the ball on the wing, his markers cannot predict his next line of action. If the game is tight, Neymar will beat his markers with dribbling and sometimes drives the ball to the centre, making link-up plays with Messi and Luis Suarez, this opens up the defense for anybody at all to pounce on a final through ball and score.
One thing he also knows how to do best is to make his markers commit fouls close to the area, making chances of a set-piece goal more likely and whenever these fouls lead to a booking for the opposition defenders, the tackles/markings on him become less rigid, breeding him more space to penetrate and maraud through.
Neymar's importance in the Barcelona team is beyond writing and is even farther beyond mere goals and assists. The chances he creates, spaces he opens, fear he instills in defenders and his ability to link up perfectly well with Messi are things that the Catalans are missing.
In my candid opinion, I'd say had Neymar played against Sevilla, that game would have ended in 90 minutes for Barca and had he featured against Athletic Bilbao, the story would have been totally different. Wait until Neymar returns and see how the Barca team will begin to flow again like the treble-winning Barca. Get well soon Ney!