The Catalans suffered a painful 4-0 defeat to the Basque outfits but have a chance to perform a miracle when they go head-to-head in the 2nd leg at the Camp Nou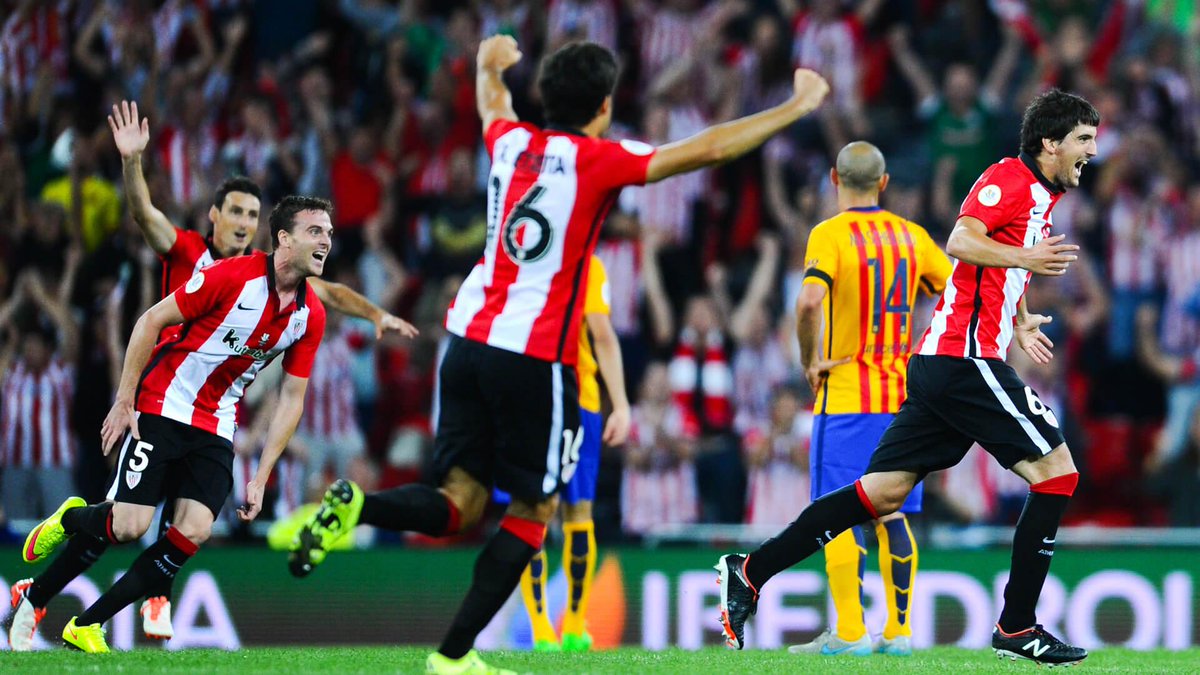 It was like a dream in everyone's eyes when FC Barcelona were drubbed 4-0 by Athletic Bilbao in the first leg of the Spanish Super Cup tie in San Mames on Friday.
The chances for Barça to pull a miraculous comeback is incredibly low but somehow, there's every reason to believe in the Catalans as the game will be held at the Camp Nou.
Of course a comeback is possible, especially when it is Barça that are searching for it. Barça fans strongly believe in their team and moreover, they have nothing to lose. FlyBarca outline Five things the Catalans should do for them to overturn the deficit.
Five Things Barça Must Do To Pull A Comeback Against Bilbao
1. Barça should come into the game knowing they have nothing to lose:
A 4-0 deficit has obviously turned the tie around, Athletic Club are now huge favourites, therefore, Barça should take the game as a venue to showcase their worth. If they win the game but lose the title, it would be understandable, so, a win is the target and not just a win, a big win.
2. Barcelona should try to get an early 'first' goal:
The first goal is very important for Barça but getting it early would be sweeter, far sweeter. If they can score a goal in side the first 5-10 minutes, the atmosphere of the tie will automatically change. Athletic Bilbao will be under panic of a possible Barça comeback and this would lead to the dis-organisation of their team leading to series of mistakes, looseness and errors. An early goal will also boost the morale of Barça players and the attack and pressure on Bilbao at that moment will be too much for them to bear.
3. The players should take the game as 'more than a final':
Both sides will play the game with utmost strength but all Barça have to do is to take theirs 2 steps above normal. The comeback against AC Milan in the Uefa Champions League in 2013 is a typical example, take every kick as carefully as possible, marking should be tight, make a sliding tackle when it's necessary, clear in dangerous zones, do not miss clear cut chances, no misplaced passes and teamwork is key.
4. They should not forget their defense:
Scoring is the main target, yes, Barça need at least four goals to have a chance of winning but they should have it at the back of their mind that conceding a goal will destroy their hopes of a comeback because if one goal is shipped in, a 6-1 scoreline is the least result that would see Barcelona win the trophy. The best defenders should be picked and their coordination is key. There should not be any form of gambling close to the area as most of the game should be played in Bilbao's half.
5. The fans should be the team's 12th man:
The game is at the Camp Nou meaning there will be over 80,000 Barça fans present to support the team. They know their team is capable of pulling a comeback but they should also know their backing will be crucial. Loud cheers, songs of faith and conviction on the team, applauds at every attempt and funnily, they should try to make sure the referee isn't giving unfavourable decisions. Yes, the fans can win this game for Barça.
Well, the funny part of life is that these above stated actions can be carried out and Barça will still come out second best, they'll need something again, one last thing that is not guaranteed: LUCK! A 4-0 deficit is not a minor issue, and any little action can change the game be it an early red card for Bilbao or an own-goal from Aymeric Laporte. A miracle is highly needed but before it, everything should be correctly put in place. Barça can do it! Tots Units Fem Força!