The Catalans are going through one of their worst starts to a season after a woeful pre-season and struggling to find their spark in their first three official games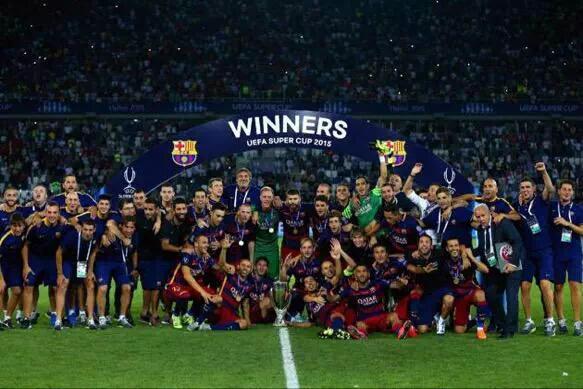 Barcelona's hopes of winning an historic 2nd Sextuple were dashed after they lost the Supercopa De Espana 5-1 on aggregate against Athletic Bilbao on Monday. However, the loss doesn't change the fact that the Catalans are the team to beat in this season's football campaign.
After an average pre-season that saw them lose to Manchester United, Chelsea and Fiorentina, winning against LA Galaxy and Roma, one might deduce that the Catalans are weaker than the treble winning side.
This point is made valid as Barcelona are currently struggling in official games also. They threw away a three-goal lead in their lucky 5-4 Uefa Super Cup win against Sevilla and were thrashed 5-1 on aggregate in the Spanish Super Cup against Athletic Bilbao, a team they beat three times last season with a 10-3 aggregate score.
It is logical to say Barcelona won't be as successful as they were last season but yet, they are still very well the team to beat in all three competitions (La Liga, Copa del Rey, Uefa Champions League) they'll take part in this season.
In this Article, FlyBarca states '5 reasons why Barcelona's current situation should not be used to judge their season.'
Five Reasons Why Barcelona Are Still The Team To Beat
1. Neymar's Presence Is A Huge Factor:
It can be said that Neymar's absence is the reason, or at least part of the reasons why Barcelona are suffering right now. The striker's absence is underrated giving the fact that he is very important to Barça both in attack and defence. His presence reduces the opponent's attacking prowess as they'll have to be more careful with their defence. When Neymar returns, we'll surely see a bit of the original Barça once more.
2. 4-0 Loss To Bilbao Was An Accident:
The 4-0 Spanish Super Cup loss against Bilbao is the major talking point. It is the main reason why fans are casting doubt over Barça's 2015-2016 season. Analysing that game, it can be said that it was just an accident due to a tactical mistake by Luis Enrique. The starting line-up was weak and the midfield was dead after he bench the whole midfield trio. Aside from the players, three of Bilbao's goals were from mistakes from defenders. This things don't happen all the time, especially with Barça and we expect to see it curbed soon.
3. Lessons Have Been Learned:
Luis Enrique as well as all the players in the Barcelona squad learned one or two lessons from the Super Cup loss. The most significant being on complacency. Barcelona were clearly complacent in the first leg against Bilbao that was why Luis Enrique could start Sergi Roberto, Rafinha, Bartra and Vermaelen at San Mames. Like he said, sometimes it's good to lose as this will teach him not to take games of such calibre for granted.
4. The MSN Trident Will Be Back:
Messi has already netted thrice this season but Luis Suarez is finding it hard to find his goal-scoring form, maybe because Neymar isn't around to balance the prongs of the trident. The MSN trio understand each other more than any other partnership in football and when they reunite, Barcelona will surely find their spark back. They scored 122 last term and will surely be targeting more than that in 2015-2016.
5. The Winning Mentality Is Still There:
Barça just need just one game to kick-start their domination. They rarely go more than two games without winning and the last time they lost two consecutive games, they won the next seven. They always want to win and this will start when the team's players are back fully.
Barcelona begin their treble defence on Sunday when they travel to San Mames to take on Athletic Bilbao in La Liga opener, a team they are yet to beat in two games this season already.