The former Barcelona midfielder hasn't changed his views on the Messi-Ronaldo debate and believes Pep Guardiola will return to the Catalans in future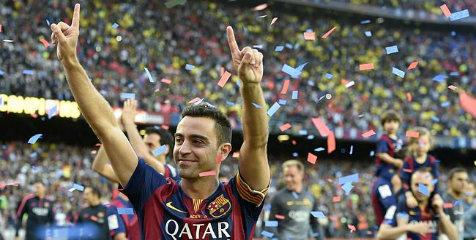 Barcelona legend Xavi Hernandez left the club this summer and is settling well at his new home, Al Sadd in Qatar.
However, the Iconic midfielder hasn't erased Barcelona memories from his brains and answered a few questions thrown at him by his club website of which some of these questions were on the Messi-Ronaldo debate, the return of former coach Pep Guardiola to Barca and the situation of Compatriot Iker Casillas.
On his views on who is a better player between Messi and Cristiano Ronaldo, the midfielder repeated what he had always been saying during his time at Barca.
"[Cristiano] Ronaldo is a great player, but [Lionel] Messi is the greatest footballer in the history of the game."
Xavi also spoke on his former manager Pep Guardiola and the midfielder believes Barca's most successful manager will one day return to the club.
"I enjoyed a successful period with Pep at Barca and I know he will return to Barcelona just when the time is right."
Finally, Xavi went on to speak on the current situation of former Spain teammate Iker Casillas who also left Real Madrid after spending most of his lifetime at the club.
"He (Casillas) is my friend and one of the giants of the game; I am highly disappointed at the way he left Real [Madrid]. He deserves a much better treatment."
Xavi won 25 trophies with the Catalans during his stay including 8 Liga, 4 UCL and 3 Copa del Rey titles but is now a player for Qatari side Al Saad.