The fantastic trio have been rewarded for their incredible season after they all made the final 10-man shortlist for the 2014-2015 Uefa Best Player in Europe Award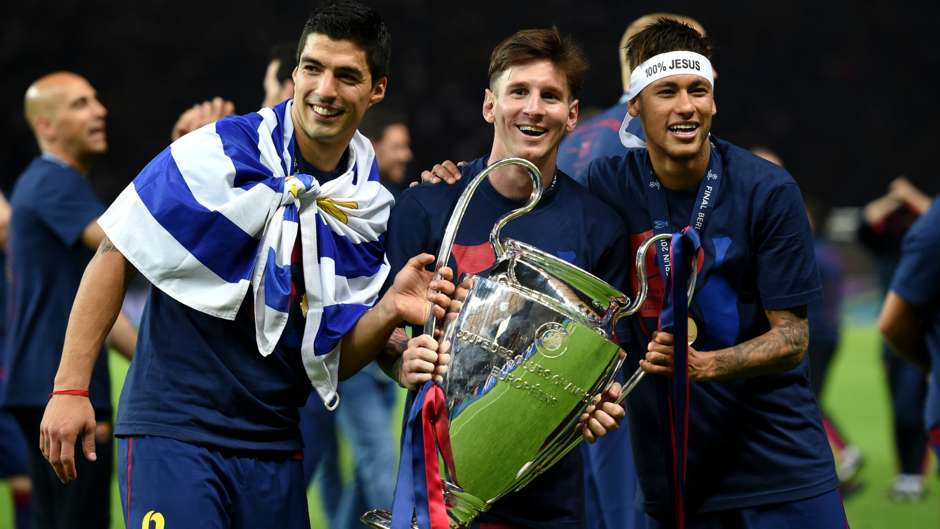 FC Barcelona deadly trident Lionel Messi, Neymar Jr and Luis Suarez have all been nominated for the 2014-2015 Uefa's Best Player in Europe Award.
The trio had a wonderful season notching up a total of 122 goals across all competitions despite Luis Suarez not featuring during the early stages of the season through ban.
Their fantastic performance last season helped Barcelona win their second treble and the trio have been dubbed by some as the 'greatest attacking trident in football's history.'
Moreover, MSN are the only Barcelona representatives in the top ten with UCL runners-up Juventus boasting five players. Real Madrid's Cristiano Ronaldo and Chelsea's Eden Hazard completes the top ten.
Other Barcelona players like Andres Iniesta, Ivan Rakitic, Xavi Hernandez, Javier Mascherano and Marc-Andre ter Stegen were voted for by journalists from each of the 54 national associations of UEFA, but didn't break into the top 10.
The shock of the whole list is the exclusion of defender Gerard Pique who had a fantastic season with the Catalan giants.
Two Barcelona players have been previous winners of the award since 2011 with Lionel Messi winning it in 2011 and Andres Iniesta in 2012. Franck Ribery won the award in 2013 and Cristiano Ronaldo is the current holder, winning it in 2014.
UEFA Best Player In Europe Award – Ten Players Shortlist
Gianluigi Buffon – Juventus
Eden Hazard – Chelsea FC
Lionel Messi – FC Barcelona
Neymar Jr – FC Barcelona
Paul Pogba – Juventus
Andrea Pirlo – Juventus
Cristiano Ronaldo – Real Madrid
Luis Suarez – FC Barcelona
Carlos Tevez – Juventus
Arturo Vidal – Juventus
The final three nominees will be announced on August 12 with the winner emerging on August 28. Lionel Messi is tipped to win the Award after missing out on the past 3 editions.