The Barca coach believes his team played well but was unhappy with his side's lack of killer instincts in front of goal whilst also slamming the dry condition of the pitch as being unfavourable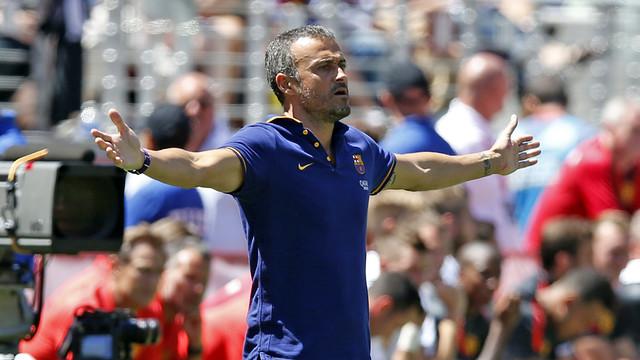 Barcelona suffered their first defeat of the pre-season in a 3-1 loss to Manchester United but Luis Enrique stated that he saw a "good game" from both teams but was only baffled by his team's lack of composure in front of Man United's goal as Barca hit the woodwork on three occasions.
"Hitting the post is part of football. Today (on the day of the loss) we have not been as clinical as we used to be. Aside from hitting the post, we created plenty of chances."
Luis Enrique commented on the bad quality of the pitch saying it was unfavourable for both teams.
"It was a shame that the pitch was so dry. It hurt both teams."
The 45-year-old then went on to state his reasons for playing Sergi Roberto at right-back with Douglas on the bench.
"Sergi Roberto playing at right back is another option. The more options we have the better. He is versatile and looked good playing at full back."
"Douglas didn't play for fitness reasons. He ended the last game a little sore and we did not want to take risks."
Enrique also spoke on his reunion with Louis Van Gaal whom he played under during his time as a Barcelona player.
"I spoke to him for five minutes. It was a pleasure. He is a great person and one of the best coaches that I ever had. I have great memories of him."
"With a coach like Van Gaal and the kind of players they (Man United) have, it is a team that are going for everything."
"In a year a lot of things can happen. We came off the back of a year without a trophy and we won the treble. United could do the same, it's a great club."
Barcelona's next game in the International Champions Cup is against Chelsea FC on Tuesday, 28th July before tackling Fiorentina on August 2.