The former Barcelona player has been officially announced as coach of FC Barcelona B and he'll be there for the next two seasons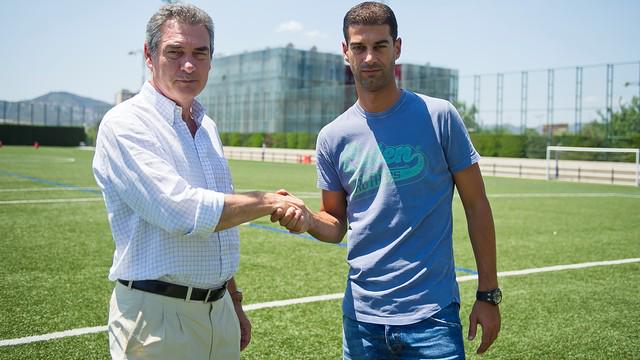 FC Barcelona has officially announced that former Barcelona midfielder Gerard Lopez will be the next coach of Barca B for the next two seasons.
The new coach, who – before his appointment – was coach of the Catalan national team, is a Blaugrana at heart and is himself a product of the Club's famous academy system 'La Masia' before becoming a first team player at Barcelona for five seasons.
Gerard López succeeds Jordi Vinyals who was fired weeks back following the relegation of Barca B to the Spanish third tier competition.
Upon appointment, the new coach was delighted to take the post and is happy to return working for the progress of the Catalan club.
"It's an honour to come back to Barça. My family has close connections with the Club and I spent a long time here – coming back is the best thing that could have happened to me," he said.
"As Barça B coach, I will have two objectives: getting the side back into Segona A and helping to prepare the players to make the step up to the first team."
"My experience in the academy system will be of great use to me because I can put myself into the players' shoes. I'm eager to start work and I am sure that alongside Pep Segura, we'll do a great job."
Gerard arrived at Barca's academy just aged 11 and was part of the club's first team from 2000 to 2005. He won the Liga title with Frank Rijkaard during his final season at the club.
He took over as head coach of Catalonia in 2013 from the legendary Johan Cruyff and has been manager of the team until now.