The Catalans are due to start preparations for the 2015/2016 season and will tour North America for pre-season with the Joan Gamper trophy making it 5 preseason fixtures for Barca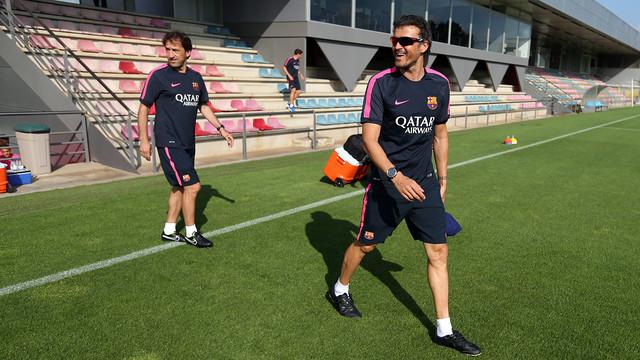 Barcelona kick start their preseason on Monday, July 13, when all available players will go through physical and medical testing, that will be followed by a week of training sessions.
Players that took part in the Copa America, Lionel Messi, Javier Mascherano, Claudio Bravo, Dani Alves and Neymar, have permission to join the club at a later date, though Neymar is expected to take part in the North American tour of friendlies as well.
Barcelona will take part in the 2015 edition of the International Champions Cup. The team will embark on the trip to California on Sunday, July 19. Two days later, on Tuesday, July 21, at 5:00 AM CET, they'll take on the Los Angeles Galaxy at the legendary Rose Bowl stadium in Pasadena.
On Saturday, July 25, Barcelona will play their second preseason friendly at Levi's Stadium in Santa Clara, California against Manchester United at 10:00 PM CET.
On Tuesday, July 28, at 2:00 AM CET, Barcelona will square up against Jose Mourinho's Chelsea FC at FedEx Field in Landover, Maryland. This fixture will conclude Barcelona's North American part of the tour, but not the preseason.
The Club will play one more friendly game in Florence, Italy, at the Artemio Franchi stadium against home team, Fiorentina, on August 2 at 9.00 PM CET.
After the game against Fiorentina, Barcelona will return to the Camp Nou, to play in the 2015 Joan Gamper Trophy. The game is expected to be played on 4 or 5 August, though the date has yet to be confirmed and the opponent will probably be Italy's AS Roma.
The Joan Gamper trophy will be the final friendly of the pre-season and Barca will play their first official game of the season in the first leg of the Spanish Super Cup, with August 8 the proposed date although there is a disagreement on that date due to when the Liga campaign kicks off.
Barcelona's will then play their final game before the start of La Liga (if the League starts on August 15) in the Uefa Super Cup against Sevilla at the Boris Paichadze Dinamo Arena in Tbilisi, Georgia on Tuesday 11 August.
FC Barcelona 2015-2016 Pre-Season Fixtures
July 21 – LA Galaxy vs FC Barcelona – Rose Bowls Stadium – 5:00am CET.
July 25 – Manchester United vs FC Barcelona – Levi's Stadium – 10:00pm CET.
July 28 – Chelsea FC vs FC Barcelona – FedEx Field – 2:00am CET.
August 2 – Fiorentina vs FC Barcelona – Artemio Franchi Stadium – 9:00pm CET.
August 5 – Joan Gamper Trophy – FC Barcelona vs AS Roma – Camp Nou.