The full-back played just 15 minutes in Barca's 2-2 draw (4-2 penalty loss) to Chelsea in their final game of the US tour and is set to be out of action for up to 2 months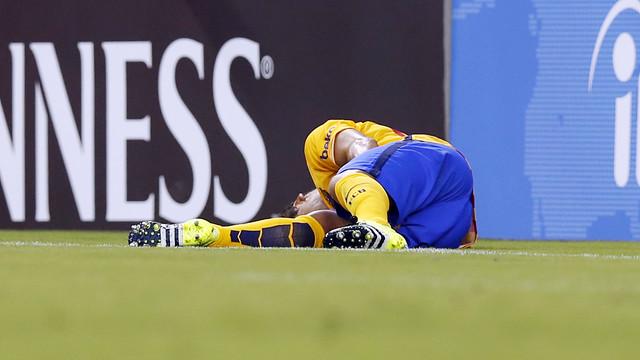 Barcelona right-back Douglas Pereira is set to be sidelined through an injury that will take up to two months to heal.
Douglas joined Barca last summer but had lots of problem adapting to the team and didn't take part in most games for the Catalans with the Brazilian also suffering an injury at some point.
The defender thought this season would be a better one on a personal level and was the only Barca player that played the full 90 minutes in the team's 2-1 win over LA Galaxy – the Catalans' first pre-season game.
However, his dreams have been dealt a serious blow as he was forced to withdraw just 15 minutes into the Barca game against Chelsea and reports which syndicate a muscular injury suggests the star will be out for 8 weeks.
The injury might just stiffen Barca's hold on Adriano Correia who is speculated to be leaving the club this summer although youngster Sergi Roberto has often been deployed at Douglas' right-back position in recent pre-season games.