The Four candidates for Barcelona's presidency have all placed their votes and each of them had something interesting to say about the ongoing elections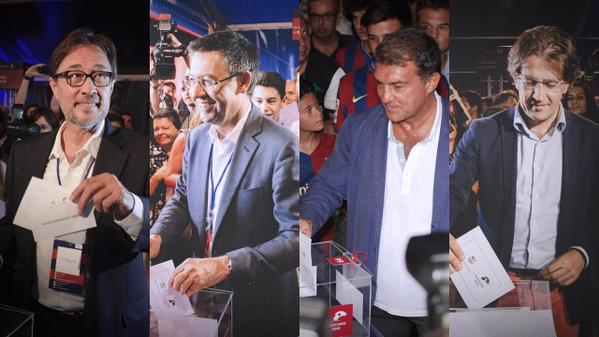 Members of FC Barcelona are coming out in their full numbers to decide who becomes the club's next president.
The four candidates, Josep Maria Bartomeu, Joan Laporta, Toni Freixa and Agusti Benedito have all cast their votes and each candidate had some things to say about the elections.
Josep Maria Bartomeu
The incumbent was the first candidate to vote and said Barca is a club of democracy whilst also stating he is not the favourite to win the election.
"This is a celebration of the club and democracy. Barça has once again shown that it is a democratic club and that its members want to play an active part in that. Everyone should come to the Camp Nou and vote. It is a good, quick method like we had for the referendum. People should come along with their families because there are plenty of activities for them to enjoy."
"We have a team that can govern the club for the next six years. I am not alone. It is not the first time that I have formed part of a team."
"These are the Barça elections that we have been promising since January. Barça needed this to start a new six-year cycle with some very important issues for the club. And Barça must continue to grow. We have to make sure that we carry on as the number one club."
"All the candidates have a chance in this election so let's see what the members decide. We have felt we have the supporters on our side throughout the campaign and a lot of them have said that they'll vote for us."
"The three other candidates are strong opponents. Freixa has some good ideas that I'd like to include, so does Benedito. We all have our opinions."
"I'll be here for the day at the Camp Nou. I want to be here with my colleagues, the candidacy and my family."
Joan Laporta
The former Barca president [from 2003-2010] was the second candidate to cast his vote and is happy with the support he's getting, saying he is optimistic about a win.
"It's a good sign that so many people have voted. I get the feeling that we are going to win and that I'm going to be feeling very happy at the end of the day. I have seen a lot of people voicing their support for me. They remember what I did when I was president."
"The people have responded. Barça has responded on such an important day. It's only 10.30 (his time of speech) and there are lready crowds of people."
"I'm very thankful for the support I've received. It shows how fans remember that we built the best Barça ever, a Barça that people are still enjoying and that can continue for another six years."
"Just like I don't remember bad moments, I can't really remember how I felt on election day in 2003. But I have a very good feeling about today."
"I went to bed feeling good, I woke up this morning feeling good and I hope to end today happy as well."
Toni Freixa
Freixa was the third candidate to cast his vote and was on a smiling face throughout saying the a lot is at stake and the joy of Cules is what matters.
"The members know there's a lot at stake today, including the immediate future. They always take responsibility and show up for the big occasions. The joy of the Barça fans both now and in the future is what matters today."
"We are a unique club in the world and we can feel very proud of our candidacy."
"Today is not a day for campaigning. We have had 45 days to do that and the last five have been the most decisive. And I feel happy with the way things have gone."
"We have reached the final neck and neck with the other candidates and the work they have all done has been very good. It has been an example to everyone of what Barça can do."
"We are very happy with the job we have done and people have recognised us for that. We can feel very proud of ourselves."
"I want to congratulate the employees that have worked so hard to make this day work. The organisation of all this has been fantastic."
Agusti Benedito
The 2010 presidential runner up was the final candidate to vote and said this election is the most important since 1953 and it is crucial for the future of the club.
"A lot of people know that there's a need for change. They are tired of wars and have a different idea of what Barça should be. I believe I can lead that change. These are the most important elections since 1953. We're deciding about investments of more than a thousand million euros. There's a lot at stake but the people know that. Today is a huge celebration and I feel proud of that and happy to be a Barça supporter."
"They're not ideal dates but Barça is more important than anything else. That's why I'm calling on everyone to come along and vote."
"There are very few clubs in the world where this happens. Of teams of our calibre, we're unique. Thousands of Barça members will decide."
"All four candidacies have been up the requirements of the campaign. It has been a clean process."
"These elections are wide open. I'm hoping there's going to be a surprise at the end of the day."
The elections started at 9:00am Barcelona time and will run through 9:00pm with results expected to be announced 2-3 hours later or early on Sunday morning.