It was a long week of international games for some Barcelona players which saw five stars from the Catalan club represent their countries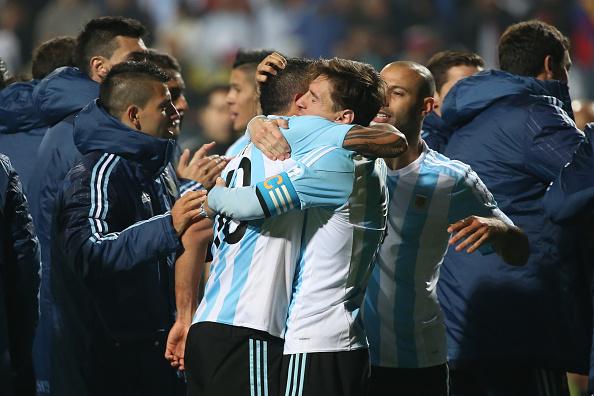 Goalkeepers Claudio Bravo and Marc Andre ter Stegen were in goal for Chile and Germany U21 respectively while Lionel Messi and Javier Mascherano helped Argentina reach the semi final of the Copa America with Dani Alves' Brazil crashing out of the tournament.
Claudio Bravo's Chile Qualify For Semis
Chile got a tough opponent, Uruguay in their Copa America quarter final clash but came out victorious after an 81st minute strike from Mauricio Isla gave them a 1-0 win, setting up a semi final clash with Peru.
Messi And Mascherano Qualify For Copa America Semi Final With Argentina
Lionel Messi is still in search of his first official trophy with Argentina's senior team and delivered an awesome display in Argentina slim win over Colombia. The Barca star was unlucky not to score but was awarded the man of the match as Argentina beat Colombia 5-4 on penalties (0-0 after normal time) that saw them set a semi final meeting with Paraguay on June 30.
Ter Stegen Concedes 5 – Germany Out Of Euro U21 Championship
The Barcelona number 1 have been going through a pretty good tournament until Germany U21's semi final tie with Portugal U21 which saw them whipped 5-0 and sent packing out of the ongoing Euro U21 Championship. It was the first time Ter Stegen let 5 goals past him in his career.
Dani Alves' Brazil Sent Packing Out Of Copa America
Dani is the most unfortunate here. His assist to Robinho gave Brazil the lead on 15 minutes before Thiago Silva's silly handball in the penalty area on 72 minutes handed Paraguay the equaliser from the spot. The game went into penalties and Brazil lost 4-3 after Costa and Ribeiro missed. Alves missed the chance of meeting Messi in the semi final on June 30.