The Brazilian joined Barcelona in the summer of 2010 and has been an important player for the Catalans ever since then but just a few people understand his importance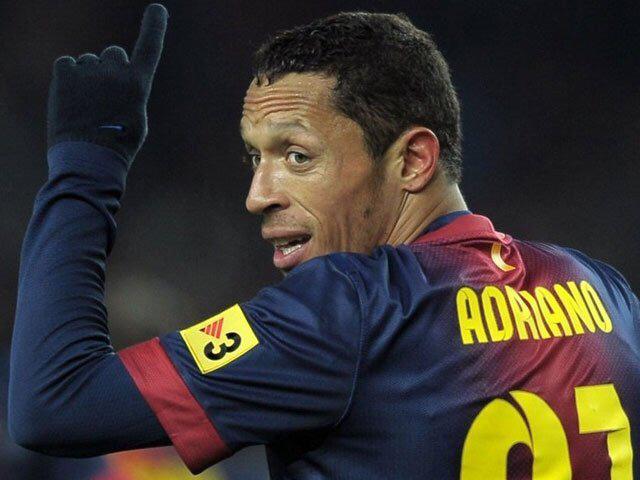 Barcelona's left-back position is indeed rich and secure with the Magesterial Jordi Alba bossing the role while Adriano Correia fills in whenever the Spaniard is absent from the starting XI although Jeremy Mathieu is sometimes deployed to play there.
It is a fact that Adriano always deliver wonderful performances when called upon. He has power, aggresiveness, speed and is one of the few footballers who are genuinely and naturally Ambidextrous which is his most unique quality.
Adriano is the only present Barca player who can play wonderfully well as both a right fullback and a left fullback. He can also play at both sides in midfield and has once been deployed as a winger by Pep Guardiola.
His powerful long range shooting ability is tremendous and have saved Barcelona on numerous ocassions.
Forget his abilities, now lets focus on his passion for the Club.
Adriano joined Barca from Sevilla in 2010 and was a substitute during the majority of his first year but he had a bit of luck (although not actually the kind of luck he'd have liked) being the starter for 2 months when first choice left-back Eric Abidal was down with a serious illness. However, Abidal returned fit towards the end of the season and replaced Adriano in the starting XI for the triumphant 2011 UCL final in Wembley.
Abidal's illness reoccured in 2012 and prevented him from playing for some time with Adriano filling in.
Abidal had to leave the club due to his health giving a chance for Adriano to take the starter spot but Barcelona went on to sign Jordi Alba from Valencia who ended up becoming the Catalan's first choice left-back up till today.
Many people thought Adriano would leave because of this but the Brazilian ended up extending his contract with Barca for an extra 3 years. Now that's loyalty.
You could tell from a player's attitude and facial expression if he is happy or not, Adriano is 100% happy at Barca. Just examine the way he celebrates whenever the team scores, we all saw the way he went half-crazy jubilating with Dani Alves after Barcelona won the Uefa Champions League this season. Honestly, you can't take it away from Adriano.
He endured with the team during difficult times, always tries to be on top of his game everytime he wears the Barcelona shirt, he never say never, a pleasant workaholic, a Barca-thing, Adriano!!