Barcelona are obviously the best team in Europe – No doubt – but their success from the Pep era until now would not have existed if Sergio Busquets isn't a Blaugrana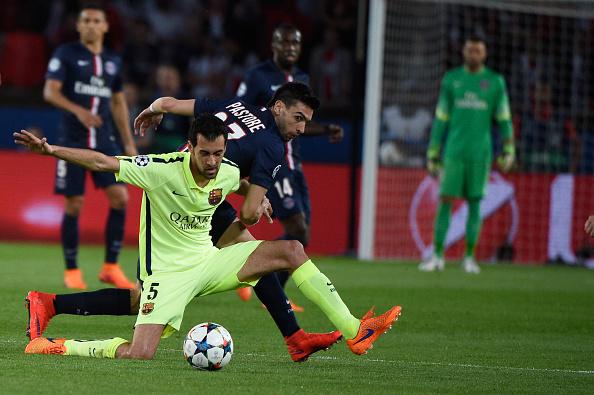 Barcelona possess one of the most underrated footballers in the history of the game in Sergio Busquets.
The Barca Number 5 is the best Central Defensive Midfielder in the world today but he doesn't seem to get the praises he deserves from the footballing world.
However, there are some football experts who understand the quality possessed by this Angel of a footballer.
Quotes By Prominent Football Personalities About Sergio Busquets
Pep Guardiola (Bayern Munich's Coach) : "Busquets is the best defensive central midfielder in the world. He's tactically very strong and will only become more important for Barcelona in the future. He can follow in the footsteps of Carles Puyol and Xavi. He's very humble and calm, but doesn't mind speaking up when he sees fit either. If I was reincarnated as a player, I'd like to be like him."
Vicente Del Bosque: "If I were a player, I would like to be like Busquets."
Xavi: "Without Busquets, Barcelona and Spain could never had achieved what we have achieved."
Andres Iniesta: "The perfect player? Falcao's ability in the air, [Carles] Puyol's personality, Xavi's right foot, [Lionel] Messi's talent and left foot, [Sergio] Busquets' tactical awareness and Cristiano's eye for goal."
Pacho Maturana (Ex-Player/Coach): "For me, Sergio Busquets is the best player in the world. He never plays badly, always solves all the problems."
Cesar Luis Menotti (Ex-Player/Coach) : "He's one of the greatest talents that has been given to Spanish football. This is a discovery. The first time I saw Busquets playing, I called a friend and said: 'I saw a player from an extinct species'. He's a star. An absolute talent."
Sergio Ramos (Real Madrid Player): "There are a number of players I like, but the one we perhaps need is Busquets."
Johan Cruyff (Barcelona Legend): "Positionally, he seems like a veteran with or without the ball. With the ball he makes what is difficult look easy: he disposes of the ball with one or two touches. Without the ball, he gives us a lesson: that of being in the right place to intercept and running just to recover the ball."
Vicente del Bosque: "You watch the game, you don't see Busquets. You watch Busquets, you see the whole game."
Vicente del Bosque: "Busquets makes everything look so easy that we sometimes don't realize how hard he works."
Yes, yes! They've said it all. Busquets is just too good. Apart from Messi, Busquets is the only player that dominates his position, he is far ahead of other Defensive Midfielders.
Although he has received his fair share of criticism for play-acting sometimes, he is still the best in his position and it is better we enjoy him while we can.
CHECK THIS:
6 Barca Players In Official Liga Team Of The Season