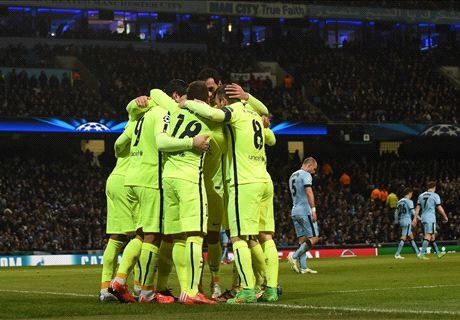 Barcelona Boss Luis Enrique says Barcelona are on course to win a domestic and European treble this season.
Barca take on Villarreal in the second leg of their Copa del Rey semi final on Wednesday, taking a 3-1 lead into the clash from the first match.
The Catalan side are also two points behind Real Madrid in La Liga and have a 2-1 lead over Manchester City heading into the return game of their Champions League second round tie.
And the coach is sure his team can win every competition this season.
"The objective is always to win," he told reporters. "We want to win all the matches and at the end of the season we want to have chance to win every title, we are on course, our objective is to achieve the best possible results."
Villarreal are currently sixth in the league and are fresh off of a 1-1 draw with Real Madrid.
"Villarreal are one of the best teams in the league and I'm sure we'll see the most attacking version of them during this game.
"They have resources to make it hard for any team, their potential is there, nobody can deny that. We need a strong performance and we must be superior to them.
"Scoring a goal is very important for us but the objective is to win the match. We need the ball even to defend, that's our objective, having the ball and having it as far as possible from our goal as possible."
The coach has denied that his side are too reliant on their front three of Luis Suarez, Messi and Neymar.
"The strikers need the midfielders, defenders and goalkeepers, my objective is to have everything work in all the aspects."