It was a hard fought game at the Calderon that saw the host reduced to 9 men. Neymar, however, was the star of the game as his brace sealed a semi-final spot for the Catalans.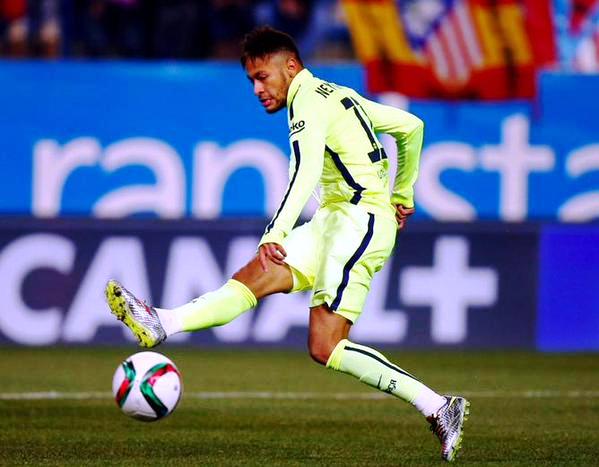 The match sprung into fascinating action from the kickoff as Barca were barely settled before prodigal son, Fernando Torres struck 38 seconds into the game. Leaving the Blaugrana faithful astonished.
Barca weren't ready to enter into the first ten minutes as trailers and the hardwork paid off as a counter attack from Messi was too strong for Atleti. The argentine linked up with Suarez who found Neymar in space and the Brazilian made no mistake in getting the equaliser on 9 minutes.
The game was full of actions but Barca found themselves behind once again as Raul Garcia slotted from the spot after Mascherano committed a foul although replays showed it was outside the box.
Barcelona didn't give in and they were rewarded after few minutes as Miranda got the ball into his own net to make it 2-2.
It was as if the first have was destined to end in a draw but Barca made that thought false. Left back Jordi Alba pulled a magnificent pace that saw him sprint from his own box to Atleti's area in just 12 seconds and streched to make a pass to Neymar who slotted in his second of the night just minutes before the half time whistle.
The second half started with Barca leading 3-2 and Atleti was reduced to 10 men after Gabi was sent off for allegedly hitting Neymar in a tunnel Burst up.
Atleti players began to commit a huge number of fouls on Messi and Neymar and Mario Suarez was sent off for fouling Messi which saw the host reduced to 9 men.
The game was then cooled down in the dying stages of the game as Atleti sought to defend their 1 goal deficit.
The game ended 3-2 and Barca progressed into the Semi Final with a 4-2 aggregate, and will be happy beating Atleti 3 consecutive times this season after failing to win in the previous 6.