FC Barcelona are banned from signing players
for the next two transfer windows, now what's next for the Catalans? Their evergreen football academy will come to their rescue, La Masia. In this article,
FlyBarca
highlights 9 Masia youngsters who may be Barca heros in the future but their future at the Club are uncertain. Enjoy.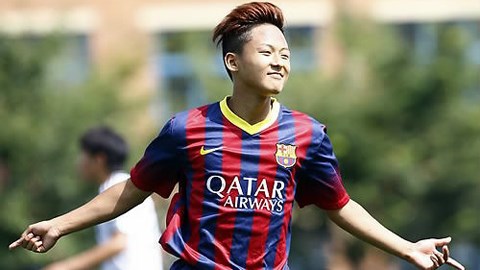 9 La Masia Super Stars Whose Future At Barcelona Is Crucial
9. Bobby Adekanye – Nigeria/Netherlands.
Currently loaned to PSV but will return and will be able to play when he turns 16 in February 2015. A magnificent asset.

8. Theo Chendri – France.
The youngster has been cleared to play for the blaugrana because he's 17 now and has an EU Passport as a French citizenship. Outrageous talent.

7. Seung-Ho Paik – South Korea
It's unfortunate the Asian masterclass can't play until he's 18 but good news! He'll be 18 in March 2015. Therefore he will most likely stay at the club. A priceless asset.

6. Jang Gyeolhee – South Korea The Blaugranas are really investing in Korean youngsters. Jang is in the same situation as his countryboy Lee. Can't play until he's 18 and that will be around April 2016. Will hopefully stay at the club. Has potentials.

5. Patrice Sousia – Cameroon
Another African prodigy. He can't play until he's 18 in January 2017. "Only" two years left. Will maybe stay. In a 50-50 situation.

4. Ben Lederman – USA
Barca are not used to North Americans but this one seems like a blessing. Can't play until he's 18 in May 2018. Will also probably leave the club as he may get impatient. Sad!

3. Kais Ruiz
The kid can't play until he's 16 in year 2018. Would only be logical if he'd leave the club. It's too far.

2. Lee Seung Woo – South Korea
Arguable the biggest prospect in the Masia. Can't play until he's 18 in 2016. Will most likely stay. Other clubs are heavily interested in the wonderkid. A master dribbler and goal scorer. We can't afford to lose him. He's just Magnificent.

1. Take Kubo
Another Asian maestro but can't play until he's 18 in 2019. He's in Japan now for Christmas. He has called his coaches to say that he'll stay there. So sad!

You May Also Like:
Why transfer ban is a blessing in disguise for Barca