Hm! I know you guys missed
SoccerNet Nigeria
's special reports, but no worry, we are back again and this time not with a boom but with a storm softer than a mother's kiss but fiercer than earthquake.
I really enjoyed Christmas. I ate a lot of meat to the extent that my brain began to think extraordinarily and it directed me to firing you with this awesome piece of article –
'7 Factors That Let To Keshi's Failure With The Super Eagles.'
Yeah, that's it. Riding time yooo!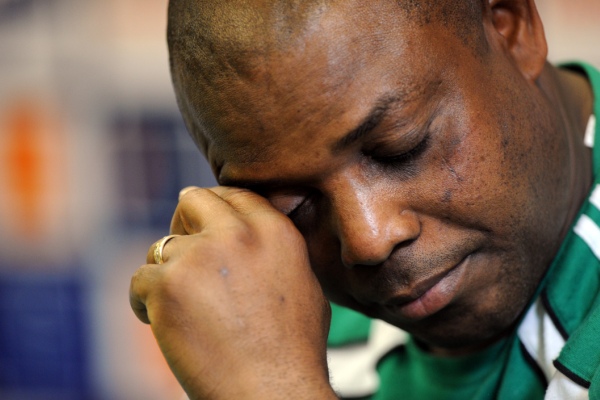 Whoops! After the Super Eagles began to fumble in the AFCON qualifiers, the news broke that Keshi had been fired and Amodu will takeover, did i say will? Sorry has taken over from him, but all of a sudden my ears rang and my eyes twinkled as it was announced that Keshi had been reinstated. Oh my! Exactly how i exclaimed when i got the news but as an optimist, i felt maybe Coachie has something to offer.
Matchday came against South Africa but Keshi tactical frailties made the Eagles fail. Oh! The defending champions didn't qualify. What a pity!
Well, like i said, i ate a lot of meat and it inspired me to find out what made Keshi fail. I'm not the selfish type, so i decided to share it with you. Enjoy Fellaz!
7 Factors That Made Keshi Fail With Super Eagles
1. He Couldn't Find The Right Formation A.k.a Clueless Coachie
Stephen Keshi has loads of star players to choose from, arguably the best set, but how to fit in these players was his problem. He didn't at all get it right. I was just happy he didn't play Vincent Enyeama as Central Forward.

2. Lack Of Motivation A.k.a Mr Flat Guy
Keshi didn't get the motivation he needs and this is purely his fault. There was a time when two experienced Nigeria soccer personalities offered to support Mr. Keshi at the world cup but to their utmost demise, they were turned down. Hmm! Na wa o.

3. Communication With Players A.k.a All Man For Himself
There are coachies that communicate with the players as if they are relatives. Keshi doesn't call or chat with his players in a friendly manner. This provoked Emenike. Lol. Taiwo even said Mr. Keshi should go. Ok.

4. Unseriousness A.k.a Milky Bubble Gum
Sometimes i look at the way he chew his bubble gum and sit while the Eagles are fumbling. Imagine a must win encounter against South Africa and our beloved Coachie sat down comfortable when his team were trailing by 2 goals. Amokachi was the one doing his work. I believe that after the game, Amokachi would feel like giving Keshi 6 lashes of the cane, that's even small, maybe 7 will do.

5. Lack Of Support A.k.a Glasshouse Of Crisis
We are throwing the blames on Keshi but the NFF deserve to be shot with either an AK47 or a grenade. They are just so ish..

6. Overconfidence A.k.a His Air Conditioned Bench
After the Nations cup triumph, Keshi grew so confident with the Eagles that he sits on the bench even when one of their wings is being cut off. Well, he's the boss.

7. The 'I Am The Boss' Factor A.k.a I'm On Top Of The World
Please Mr. Keshi invite Iheanacho. No, he's too young and still unripe. Ok, what about Ik Uche? No, he lacks discipline. Alright Boss, then call up Obafemi Martins. Oh No! He's too Old. Keshi your own is too much self, you are fired. Bye! Ok, we are sorry, come back. 'I CALL THIS TYPICAL STUPIDITY.' It's like Nigeria worship him. Too bad.

It pains me that Nigeria lingered before noticing Keshi's fault. As for my opinion, i'll thank him for bringing the nations cup to the giant of Africa. He once coached Togo, now Nigeria, we have a lot of Ghana must go's in our country so i suggest we give him one or two of these for him to pack his things and try Ghana. I rest my case. Bye!