Barcelona are interested in Marco Reus and Koke.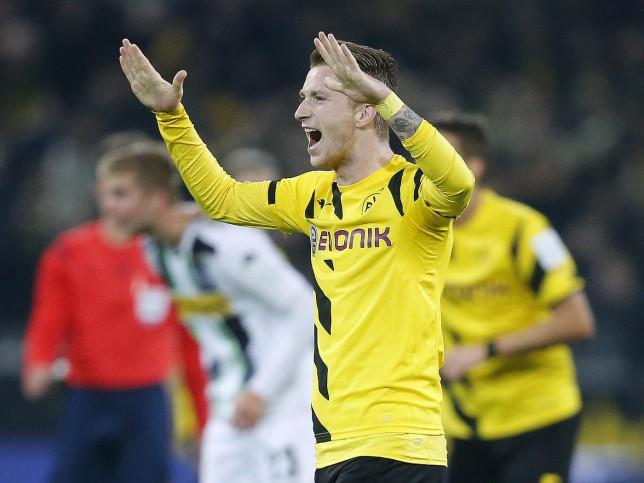 Well, i believe this is just a mere rumour but with the rate at which this 'so-called' rumour is making the headlines, one must acknowledge the fact that anything can happen in the transfer market, especially when it concerns the Blaugranas. Therefore, FlyBarca examines the two players and how they will fit into Barca's XI.
As we all know, the Catalans are banned from signing players for the next two windows but reports have claimed that the ban may be reduced, giving Barca a chance to bring new names to the Nou Camp and Dortmund's playmaker, Marco Reus along with Atleti's assist master, Koke are the two names that are making the headlines about a transfer to the Camp nou but 'who is should arrive and who should remain?' That is one question that should be considered as both stars cannot come to the club at the same time.

Whose style of play fits the team?
Yes! This is a major area that should be noted. Both players are categorically different. Koke's style mainly deals with crosses, long and through balls, while Reus dribbles, drives the ball and shoots. Barca are very poor with dead balls and this does not favour Koke as his undisputable job at Atletico is taking set-pieces.
Reus on the other hand is a more open-player and he has two traits that Barcelona, attacking midfielders lack, 'Shooting and Counter Attack.' which will go a long way in improving the Catalan's ruthlessness in front of goal.

Who are they replacing?
Gone are the days when Xavi, Iniesta and Busquets can make opponents run mad in midfield. Obviously, their abilities seem to be running down but who will replace them?
Koke has been dubbed 'the new Xavi' and has been the player most likely to replace the pass master at Barcelona but with the recent arrival of Ivan Rakitic, it looks like the Catalans have found a long term replacement for the ageing Midfielder.
Moreover, Marco Reus is the perfect replacement for Andres Iniesta as both players have similarities in their style of play and with the Spaniard coming of age, Reus may just be the main man to fill his boots at Barcelona.
So who should Barcelona buy?
Reus! Yes. Marco Reus is the perfect player. The german has also revealed his dream to play at the Camp Nou. Although, injury prone, the 25 year old will add more pace and power to the team.
Koke is also a magnificent player but Barca has many other options in the likes of Rakitic and Sergi Roberto.