FC Barcelona midweek UCL win over Ajax saw defender, Marc Bartra return to action in defence and it was indeed a good game for the spaniard who threw in a Wonderful performance that caught the eye of cules around the world.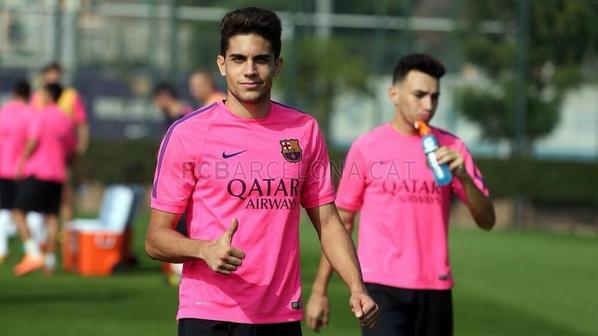 With Mathieu and Vermaelen injured, and Pique declining in form, Bartra is set to partner Javier Mascherano in Barca's defence for a while at least and he therefore enters a stage in his Barca career that may seal a starting berth for him.
In all the games he played in this season, the Blaugranas have conceded a goal in just 1 of them and the 23 year-old is not in any way relenting in his bid to burst into Barca's starting line up.
Bartra, who is less of a starter has really improved in his performances lately, producing tough tackles coupled with a powerful security in dead ball situations.
His beautiful assist for Lionel Messi's 70th Champions League goal shows a remarkable increase in his confidence, as he pushes forward for a header goal without any instructions.
The star who is still young may end up being the main man in Barcelona's defence as his career continues, with Jeremy Mathieu and Thomas Vermaelen heading towards their thirties and Gerard Pique rumoured to be transferred to England.
This will be a boom to the Spanish giants as Bartra is 100% familiar with the style and tradition of the Catalonians. He is good with passing the ball and has shown a touch of defence co-ordination lately, improving his abilities as a defence leader.
Puyol retired and left Barca defense in chaos and panic, hopefully we have a heir in Marc Bartra. Hopefully!