Once again, the wonderful duo of Neymar and Messi are taking over the headlines as both stars were on target for their respective nations on international duty.
Neymar scored twice in Brasil's 4-1 win over Turkey. The brace takes the Selecao skipper up to 42 goals in just 59 appearances for the national side, and the Barcelona forward has also netted 10 times in La Liga this term.
Asked if he was in the best run of form in his career, the 22-year-old toldGlobo: "I think so! It's another country and another stadium to keep in my heart.
"I didn't expect this, I couldn't be happier, but I always want more and I don't want to remain at this level. Thigs are flowing now.
"We have great players, not only with the Selecao but in Brazil as a whole. Players keep coming in and coming out but we never lose rhythm. We were great out there tonight."
Neymar's brace coupled with an own goal by Semih Khaya and a strike from Willian saw the selecao register their 5th win without conceding.
On the other hand, Argentina skipper Lionel Messi produced a scintillating display as he helped his side to a 2-1 win over 'Rakiticless' Croatia at Upton Park.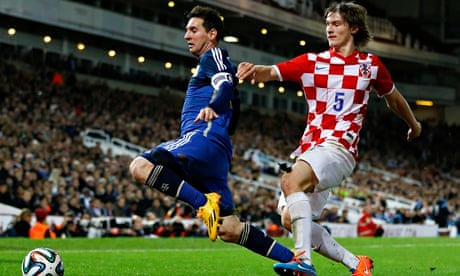 Yeah, you have the right to be surprised seeing Messi at Upton Park but it was all real in there. The Barcelona talisman even grabbed a goal from the penalty spot to clinch a 2-1 win for Argentina against a Croatian team who left out most of its top stars.