The
Nigerian forward Victor Moses had an up and down season on loan at West Han
United following a poor campaign at Liverpool Football Club leading to the
World Cup in 2014, possibly due to injury and lack of confidence as he lost his
place to English forward Raheem Sterling following the return of Luis Suarez
from Injury.
The former Wigan forward who mesmerized the Premier League
alongside Hugo Rodallega ,Franco Di Santo and Shaun Maloney earned a move under
Chelsea Champions Leagues winning Coach Roberto Di Matteo who believed that the
players pace and trickery will be vital for the club.
As talk of a move were on
going the attacker utilized the Wigan vs. Chelsea Premier League opener which
was won 0-2 by the blues to concern what a threat he can be for a top side on
the wings as he forced two Chelsea player on the night (Lampard and Ivanovic)
to be booked and was subsequently signed by the London Club, but the players
carrier has been full of some uncertainties and irregular plans due to lack of
instability at club level and at 25 for sure those rough edges are meant to be smoothened
to pave the way for a fulfilling carrier. On this note we evaluate the fine
things the forward (Victor Moses) must do in the summer.
MAKE A DECISION

The Chelsea forward had pre-season
with Chelsea Football Club under new manager Conte Antonio is reign and more is
left to be seen from the player in this Chelsea team in the coming days. Moses
was outstanding last season and was arguably one of Chelsea best player in pre-season games
particularly against Inter Milan and PSG (last season) where he scored a
poaching finish after he met and inviting cross into the box by pass specialist
Cesc Fabregas to give his side the lead with all the euphoria of celebration
attached to it. Moses performance on the Chelsea shirt has not been in doubt as
he was pretty good in pre-season games but it seems his performance used to
impress other clubs and scouts rather than the Chelsea manager (like Jose
Mourinho) but it remains to be seen if Conte will do the same line like his
predecessor who allowed Moses go on loan. The player must have make a case for
himself in the Chelsea team despite stiff competition here and there but this
is the season Victor has to make a solid decision on whether to stay at the
club and fight for his place, go on loan or move away from Chelsea as he is not
getting younger by the day and at 25 and running you need stability at club
level to be able to reach his full potential which is very vital for the
forward (Moses) going forward in the summer.
TAKE HIS
CHANCES
The player who was one of the light
and positivity for Chelsea in the 2-0 loss to Rapid Vienna in the pre-season alongside
Brazilian playmaker William Borges has one thing to do again as regards his
(Chelsea) carrier and his place in the team. Following the arrival of players
like Pedro Rodriguez the player (Moses) was pushed down the pecking order at
Chelsea irrespective of his top notch performance last season in the pre-season
games as injuries as well did not help matters as the blues manager Jose
Mourinho integrated a fit and sound Pedro Rodriguez who was searching for first
team football after losing his place in the Barcelona starting line up to the
MSN (Messi, Suarez Neymar) who the team leaving Victor Moses with the limited
option to go on loan at West Han United but with Conte in charge at the moment
Moses must make the most of it and seal a place in the Chelsea team as
competition are becoming stiffer in the Chelsea dressing room following the
return of Juan Cuadrado and signing of Michy Batshuayi.
TAKE THE MANTLE

The Chelsea football club might be
under severe remolding and certain reworking as regards to discipline and
tactical renovations under new manager Antonio Conte but without clear
indication about the future of Diego Costa leaving in company with Loic Remy
(in search of a first team football possibly at West Ham United) coupled with
the interest from various quarters and suitors for star man Eden Hazard who
looks likely to settle at the club for this season, there is need for everyone
at the club to share responsibility as the Chelsea side is not benefit of
talent irrespective of their poor showing in various competition last season.
With Victor Moses one of the shining light in the pre-season games along with
William and new signing Michy Batshuayi there is need for the Nigerian forward
to seize initial and take the game to his teams (Chelsea) opponents as he got
the quality and class to do so as proven in pre-season games and in the home
game against Burnley game as well. The player Moses must take up the mantle
initiating play in the final third, scoring more goals in the process so that
his manager (Conte) can have a new lease of trust toward him. Moses must take
the game personal to his oppositions as this will give him an edge among the
Chelsea bunch of players who are back in contention for a place in the team and
brimming with so much quality.
ENSURE
CONSISTENCY
Victor Moses stand a very good
chance of staking a claim to a starting shirt in Chelsea under new manager
Antonio Conte who is patient oriented in giving players chance especially the
loanee of which Moses have raised eyebrows from the couple of games he has
played so far in the earlier pre-season fixture and in the EFL Cup game. His
pace and athleticism have troubled opposing defence and I am sure that Antonio
Conte will be delighted to keep this season for many reasons. The ball lies in
Moses court as he might be a victim of his own course as over the years the
players have struggled with consistency and loss of form in games. If that
happens again that will be the players own undoing as coach Conte have laid a
foundation for him to deal with. Moses must improve his game on a consistent
basis if he is to find a space in Chelsea line up along with Hazard and William
who are likely coasting home with a starting birth and that would not be a good
way for Moses to repay the confidence of his enduring manager.
RESTORE
INTERNATIONAL SIGNIFICANCE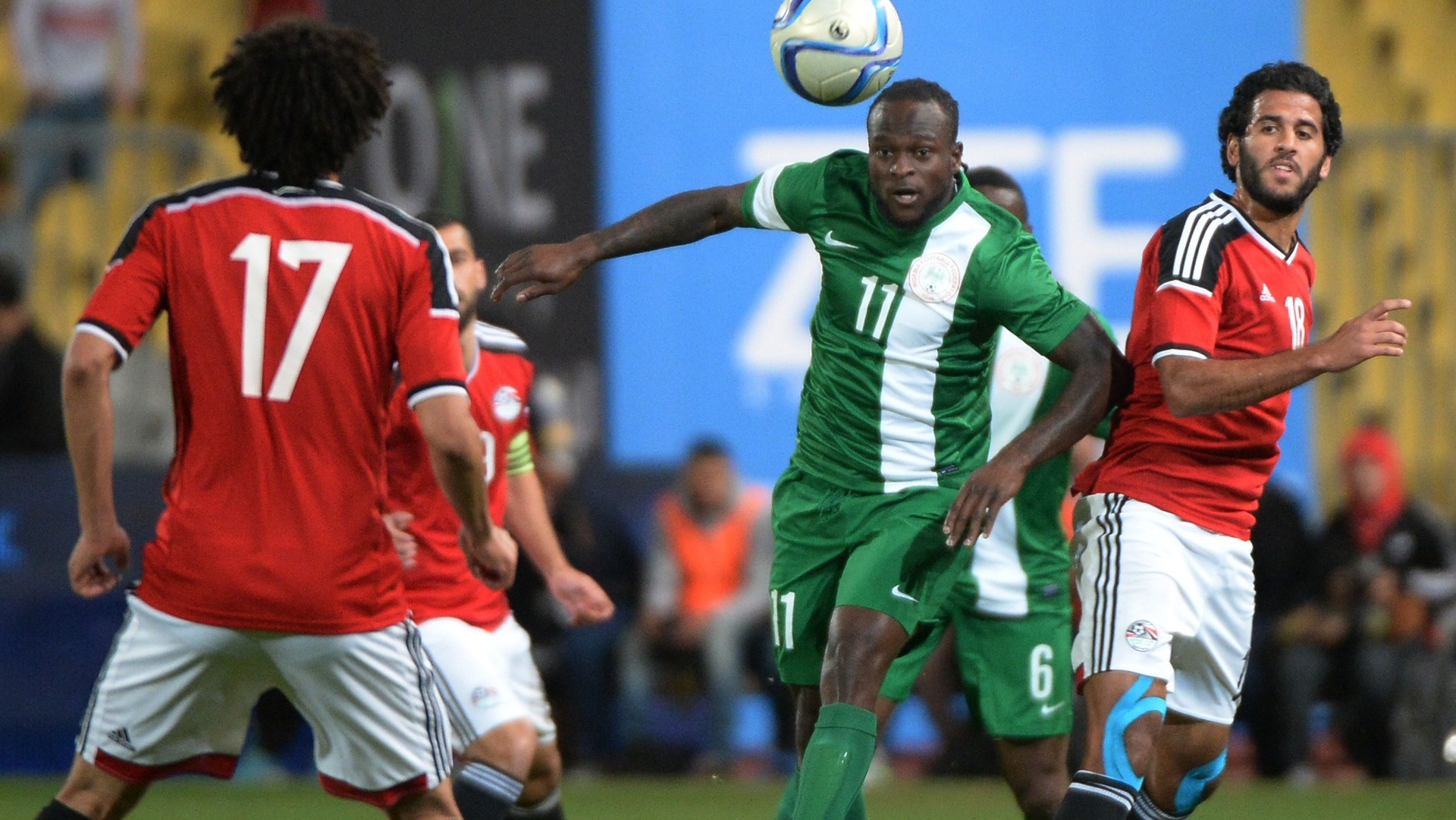 Victor Moses made a very significant
decision in choosing Nigeria ahead of England after various debate and persuasion
as to which country the young lad as at then would settle for.
The forward had
gone on to win the AFCON playing a key role in the process along with his
Chelsea teammate John Obi Mikel and has already played at the World Cup in
Brazil though only appearing in just two games (Iran and against France).
Since
after the World Cup in 2014 the player had not had much run in the team due to
certain reasons with the player notably citing injury as his major concern. The
emergence of youngsters like Moses Simon and Emem Eduok and the consistency of
Leicester new signing Ahmed Musa have made call up difficult as Nigerian
football authorities do not seems to be at peace with (Victor) Moses as some
section believe that he has a way of choosing games he will play for Nigeria.
Whether that is true or false Moses need to rise up on his toes and fight for a
place in the Super Eagles team as Tanzania clash and the World Cup qualifier
are around the corner.