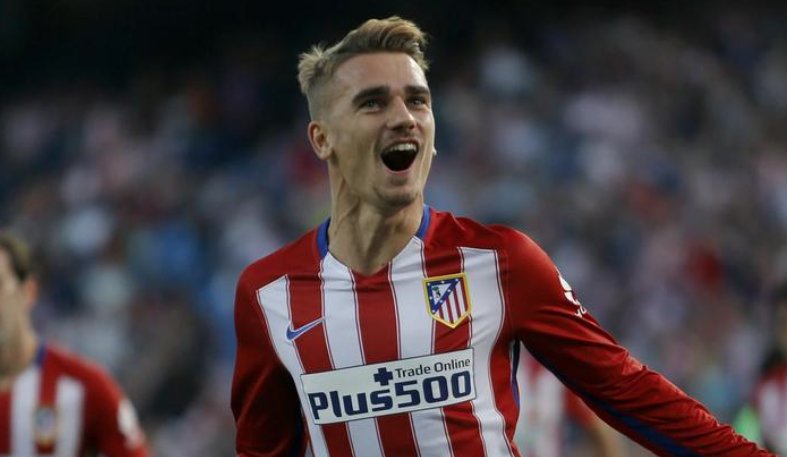 Atletico Madrid striker and top marksman Antoine Griezmann has stated that he is not even thinking of leaving the Madrid teams and wouldn't even say yes to an offer from Real Madrid boss Zinedine Zidane.
The Frenchman has been in wonderful form so far this season scoring 32 goals in 53 games for the UEFA Champions League finalists and the deadly striker reiterated that he his close to agreeing a new contract renewal with Atleti and is very happy at the club.
Griezmann's current contract runs until the summer of 2020 and there have been rumours that the all-white part of Madrid would want to secure his services in future but the striker speaking in an interview with French show Canal Football said he wouldn't say yes if he was called by Real Madrid's coach Zinedine Zidane.
"I feel good at Atletico Madrid. First of all he'd have to call. Then I'd respond because he's a great player and a great person all the same.
"But I feel good at Atletico. I'm in the process of renewing my contract and we're on the right track. So I hope we can finish it."
Griezmann also spoke on his team's UEFA Champions League final clash against Real Madrid and the star made it known that Atleti will play their normal football irrespective of what other fans think of their style. "We'll play our match as normal even if people don't like watching us too much on the TV," he said. "It'll be about being strong defensively, to make efforts for each other.
"The style of the coach is to give everything for 90 minutes and to give nothing away, to defend with 11 and also attack with 11, that's our strength."
Griezmann has netted 7 times in the champions league this campaign and will be hoping to get the title with Atleti on May 28 in Milan.