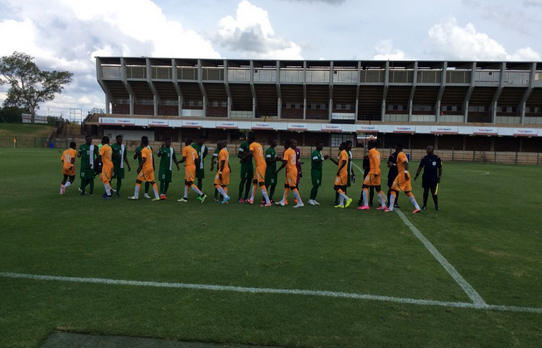 By: Obiweluozo Martins
As the CHAN competition in Rwanda gets underway, Nigeria coach Sunday Oliseh have named a 23man squad for the Championship.
There is no place for star boy Gbolaham Salami and Warri Wolves star Oghenekaro Etebo who shone like a star in the U-23 CAF Championship last year as he is reportedly moving to Europe to pitch his tent with a Portuguese Club.
Nevertheless, the Squad includes familiar names like Paul Onobi, Tunde Adeniji and Abia Warrior starlet Chisom Chikatara.The 23 man Squad list consists of three goalkeepers, 8 Defenders, Seven midfielders and 5 attackers. The Squad is dominated by players from Sunshine Stars, Enugu Rangers and Warri Wolves.
The youngest player Ifeanyi Matthew18+ years would star in Midfield while experienced old guard Ikechukwu Ibenegbu Bartholomew known as "Mosquito" is the oldest player in the Squad at 29+years.The Home Eagles would take on Niger Republic, Tunisia and Guinea in the group stages of the tournament.
On this Note SoccerNet Nigeria evaluates the complete profile of the current CHAN 2016 Home Eagles led by Skipper Chima Akas.
PLAYER PROFILE
NIGERIA
FULL NAME: Ikechukwu Vincent Ezenwa
DATE OF BIRTH: Sun 16 Oct 1988
AGE: 27Years
NAME ON JERSEY: EZENWA
CLUB:Sunshine Stars
POSITION: GOAL KEEPER
SQUAD NO: 1
PLAYER PROFILE
NIGERIA
FULL NAME: Orji Kalu Okogbue
DATE OF BIRTH: Fri 19 June 1992
AGE: 23Years
NAME ON JERSEY:ORJI
CLUB:Enugu Rangers
POSITION: Defender
SQUAD NO: 2
PLAYER PROFILE
NIGERIA
FULL NAME: Chima Uche Akas
DATE OF BIRTH:Tue 03 May 1994
AGE:21Years
NAME ON JERSEY: NASIRU JIBRIL
CLUB:Sunshine Stars
POSITION: Defender
SQUAD NO: 3
PLAYER PROFILE
NIGERIA
FULL NAME:Muhammed Usman
DATE OF BIRTH: Wed 02 Mar 1994
NAME ON JERSEY:USMAN
AGE:21years
CLUB:FC Taraba
POSITION: Midfielder
SQUAD NO: 4
PLAYER PROFILE
NIGERIA
FULL NAME: Obaroakpo Austin Ajokpaoghene
DATE OF BIRTH: Tue 10 Nov 1992
NAME ON JERSEY:OBAROAKPO
AGE:23years
CLUB:Warri Wolves
POSITION: Defender
SQUAD NO: 5
PLAYER PROFILE
NIGERIA
FULL NAME:Alimi Jamiu
DATE OF BIRTH:Mon 05 Oct 1992
NAME ON JERSEY:ALIMI
AGE: 23years
CLUB:Shooting Stars
POSITION: Defender
SQUAD NO: 6
PLAYER PROFILE
NIGERIA
FULL NAME: Aggreh Obus Prince
DATE OF BIRTH: Mon 30 Sep 1996
NAME ON JERSEY:P.AGGREY
AGE:19years
CLUB:Sunshine Stars
POSITION: FORWARD
SQUAD NO: 7
PLAYER PROFILE
NIGERIA
FULL NAME: Ifeanyi Mathew
DATE OF BIRTH: Mon 20 Jan 1997
AGE:18years
NAME ON JERSEY:IFEANYI
CLUB:El-Kanemi Warriors
POSITION: Midfielder
SQUAD NO: 8
PLAYER PROFILE
NIGERIA
FULL NAME:ADENIJI BABATUNDE TEMITOPE
DATE OF BIRTH:Sun 17 Sep 1995
NAME ON JERSEY:ADENIJI
AGE:20years
CLUB:Sunshine Stars
POSITION:FORWARD
SQUAD NO: 9
PLAYER PROFILE
NIGERIA
FULL NAME: Onobi Paul Odeh
DATE OF BIRTH:Sun 27 Dec 1992
NAME ON JERSEY:ONOBI
AGE:23years
CLUB: Sunshine Stars
POSITION: Midfielder
SQUAD NO: 10
PLAYER PROFILE
NIGERIA
FULL NAME: Bassey Ezekiel Joseph
DATE OF BIRTH: Mon 30 Sep 1996
AGE:19 years
NAME ON JERSEY:EZEKIEL
CLUB: Enyimba FC
POSITION:FORWARD
SQUAD NO: 11
PLAYER PROFILE
NIGERIA
FULL NAME: : Ibenegbu Ikechukwu Bartholomew
DATE OF BIRTH:: Sat 22 Feb 1986
NAME ON JERSEY:IBENEGBU
AGE: 29years
CLUB: Warri Wolves
POSITION: Midfielder
SQUAD NO: 12
PLAYER PROFILE
NIGERIA
FULL NAME: Chikatara Chisom Elvis
DATE OF BIRTH: Thu 24 Nov 1994
NAME ON JERSEY:CHIKATARA
AGE: 21years
CLUB:Abia Warriors
POSITION:FORWARD
SQUAD NO: 13
PLAYER PROFILE
NIGERIA
FULL NAME:Mathew Etim
DATE OF BIRTH: Sat 02 Sep 1989
NAME ON JERSEY:ETIM
AGE:26 years
CLUB:Enugu Rangers
POSITION: Defender
SQUAD NO: 14
PLAYER PROFILE
NIGERIA
FULL NAME: Ibrahim Attah Salau
DATE OF BIRTH: Date Thu 04 Aug 1994
NAME ON JERSEY:SALAU
AGE: 21years
CLUB:Shooting Stars
POSITION: Midfielder
SQUAD NO: 15
PLAYER PROFILE
NIGERIA
FULL NAME: Thomas Afebunhame Olufemi
DATE OF BIRTH: Sat 05 August 1989
NAME ON JERSEY:THOMAS
AGE:26years
CLUB:Enyimba FC
POSITION: GOAL KEEPER
SQUAD NO: 16
PLAYER PROFILE
NIGERIA
FULL NAME:Okoro Osadebamwen Moses
DATE OF BIRTH:Fri 07 Sept 1990
NAME ON JERSEY:OSAS
AGE:25years
CLUB: Enugu Rangers
POSITION: Midfielder
SQUAD NO: 17
PLAYER PROFILE
NIGERIA
FULL NAME: Bature Kawu Yaro Kawu
DATE OF BIRTH: Fri 15 Dec 1995
NAME ON JERSEY:BATURE
AGE: 20years
CLUB:Nasarawa United
POSITION: Midfielder
SQUAD NO: 18
PLAYER PROFILE
NIGERIA
FULL NAME: Christopher Madaki Maichibi
DATE OF BIRTH:Tue 12 Dec 1995
NAME ON JERSEY:C.MAKADI
AGE: 20years
CLUB:Giwa FC
POSITION: Defender
SQUAD NO: 19
PLAYER PROFILE
NIGERIA
FULL NAME:Uchechukwu Onyedikachi Bright
DATE OF BIRTH: Wed 12 Jun 1996
NAME ON JERSEY:ONYEDIKACHI
AGE: 19years
CLUB:FC Ifeanyi Ubah
POSITION:FORWARD
SQUAD NO: 20
PLAYER PROFILE
NIGERIA
FULL NAME: Eze Stephen
DATE OF BIRTH:Tue 08 Mar 1994
NAME ON JERSEY:EZE
AGE: 21years
CLUB: Sunshine Stars
POSITION: Defender
SQUAD NO: 21
PLAYER PROFILE
NIGERIA
FULL NAME:Gbadebo Samson Dare
DATE OF BIRTH: Sat 19 Oct 1996
NAME ON JERSEY:GBADEBO
AGE: 19years
CLUB:Lobi Stars
POSITION: Defender
SQUAD NO: 22
PLAYER PROFILE
NIGERIA
FULL NAME:Odah Marshall Okiemute
DATE OF BIRTH: Wed 23 Nov 1988
NAME ON JERSEY:ODAH
AGE: 27years
CLUB:Warri Wolves
POSITION:GOAL KEEPER
SQUAD NO:23
COACH:
SUNDAY OLISEH