The Catalan club has officially unveiled their third kit for the 2015/2016 season and it is the most beautiful thing ever, one every Barça fan would like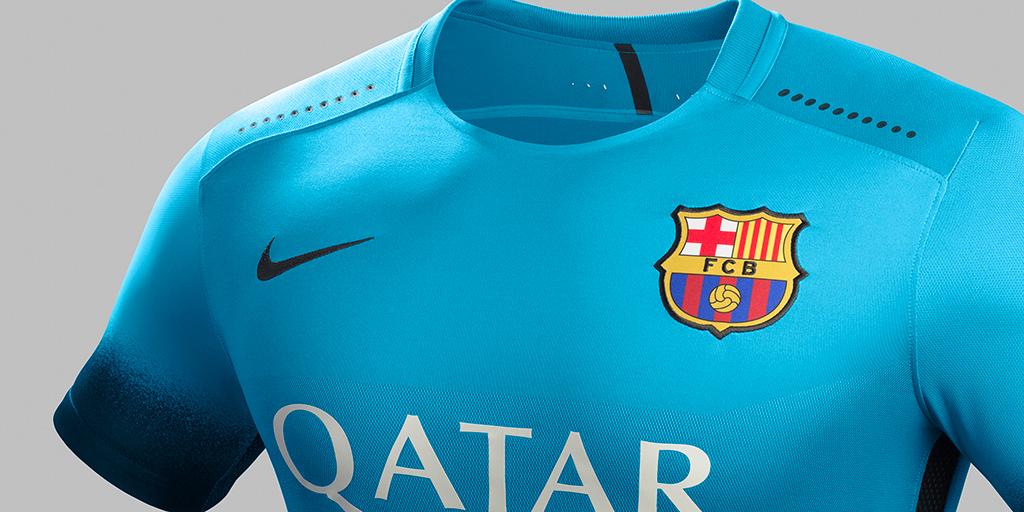 Image Credit: FC Barcelona – Twitter
FC Barcelona have officially revealed their third jersey for the 2015/2016 in the build up to their UEFA Champions League opening game against AS Roma on Wednesday.
The Kit is made of an "electric blue" shirt with a patches of fading black colour along the end of the sleeves. The name and numbers at the back of the shirt will also be in black and there is also a thin black stripe in the neck region inside the kit but the "Qatar Airways" inscription is made with black. The shirt has the FC Barcelona badge on the left chest with the NIKE badge made with black on the right.
The short of the kit perfectly correlates with the shirt. It's of the same electric blue colour and features shades of black colour towards the ends, close to the knee area of both thighs with stripes at the sides too. The short features the NIKE badge made with blue on the left and the FC Barcelona badge on the right.
The stockings is also made with the same electric blue colour with the ever-appearing dark shades featuring right at the end, close to the knee of both legs. The NIKE badge appears at the centre of both stockings with black along with the 'FCB' inscription under.
The shorts and stockings might vary in some occasions as the club may decide to go with black instead of the normal design of electric blue, however, the colour of the shirt cannot be altered.
After lots of criticism were placed on the new Barcelona home kit which featured horizontal stripes, Barcelona fans are really pleased with the third kit. The kit is extremely beautiful with a simple and perfect design, the colour is spot on and the presentation made things sweeter. The kit would be launched in Barcelona's UEFA Champions League opener against AS Roma.
THE KIT..

Image Via Abdullah Al Attar – Twitter