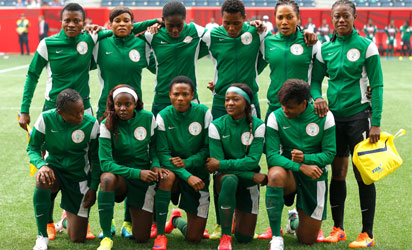 Nigeria will not be represented at the 2016 Summer Olympics women' s football tournament after crashing out of the qualifiers following a 2 – 1 loss to one of the emergent powerhouses of African football, Equatorial Guinea, in Bata.
The Super Falcons had it at their back of their minds that they needed to score in Equatorial Guinea to stand any chance of progressing to the final round of qualifiers after playing out a 1 – 1 draw with their opponents in Abuja.[post_ad]
They did give themselves a glimmer of hope, with Washington Spirit new signing Ngozi Okobi scoring in the first half to put Nigeria 2 – 1 up on aggregate.
And five minutes after the intermission, the African champions had a chance to increase their lead but struck the cross-bar.
The hosts managed to conjure up an equalizer before the 86th minute which pushed the game into extra time after four minutes.
Equatorial Guinea won over two legs after getting the game – winner in extra time while the Falcons failed to utilize their scoring opportunities.