The Celta Vigo winger has long been linked with a move to the Catalan capital as a possible replacement for Manchester-bound star Pedro Rodriguez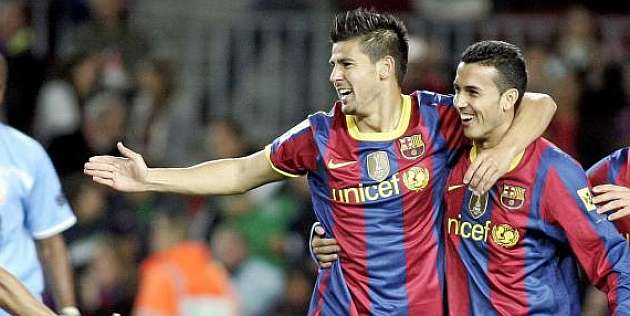 It is very likely that Barcelona winger Pedro Rodriguez will no longer be at the club by the next week as he's been heavily linked with a move away from the Camp Nou with Manchester United and Manchester City vying for his signature.
If Pedro eventually leaves, it will be Luis Enrique's responsibility to find a replacement for the soon-to-be Barça legend with the transfer window set to be closed in less than two weeks.
Excluding Pedro from the squad, Barcelona will be left with five forwards, the undisputed starting trident of Lionel Messi, Luis Suarez and Neymar as well as the newly promoted duo of Sandro Ramirez and Munir El Haddadi. However, it is possible there will be a sixth as Barça are interested in Celta Vigo's talismanic winger, Nolito.
One might say Barça shouldn't sign Nolito due to the fact that they already have two possible replacements for Pedro but in this article, the benefits of adding Nolito to the Barça rank are clearly outlined.
Nolito is a familiar name to Barcelona as he was a former player for the B-team from 2008-2011 and also made his first team debut for the club during the course. He has every quality to become a Barça player and will fit in well to the Catalans style of play.
The player is naturally a left-winger but can comfortable play as an attacking midfielder which is a plus as he could sometimes fill in for Andres Iniesta and support the wingers in tearing defences apart.
Nolito does not only score goals but also create them, and in large numbers too. He was among the few players in Europe's top 5 leagues last season that managed to reach double figures for both goals and assists as he registered 13 goals and 13 assists in La Liga last season.
One thing that makes the 28-year-old stand out is his creativity. In La Liga last season, he was the player that created most scoring chances with 96, scooping more than Lionel Messi and was also ahead of Cesc Fabregas in Europe.
His unique style of play sets him apart from other wingers as he isn't afraid to dribble through the defence and create space for a goal.
Another quality of Nolito that will add a lot to Barcelona is his crossing ability. Barça's left wing position aren't well known for crossing the ball as Andres Iniesta and Neymar rarely make square crosses but Nolito is perfect at that. He uses both feet and can deliver quality balls from the left, this will surely increase Barça's prowess upfront.
Nolito's age might be considered a disadvantage as he will turn 29 in October but it can be a Blessing in disguise. Munir and Sandro are still young and will need time to develop. Nolito can be Barça's fourth forward for the next couple of years as both youngsters go through their learning process either by featuring once in a while or by going on loan.
This is an advantage in the sense that Nolito in his prime will be part of Barça's attack and in 2-3 years time when a possible decline may occur, he will be replaced by a more matured and experienced Munir/Sandro. It's a win-win situation.
It is unlikely that Nolito will join Barça as Celta are in talks to offer him a new contract even though the player has publicly made his love for Barça known.
His release clause is currently set at €18 million with Pedro set to leave for nothing less than €30 million, spending that price for Nolito would be a bargain.
Nolito has proven himself to be a wonder with mouth-watering displays last season. He will be a perfect replacement for Pedro.