Barcelona snapped up the versatile player from Atletico Madrid for €41 million and the star is ready to win trophies with the Catalans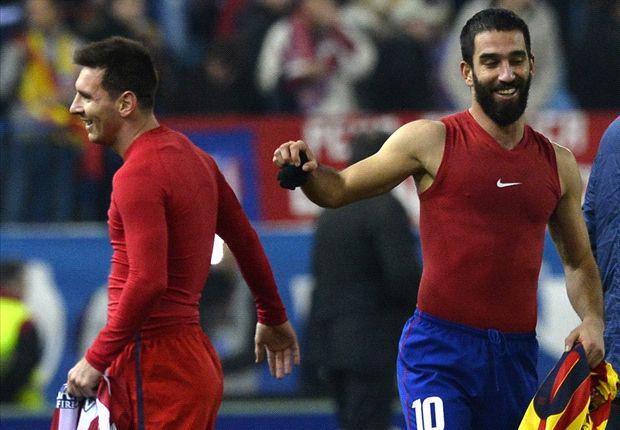 After Arda's signing was confirmed on Monday, July 6, Barcelona fans had their reactions. Some were happy, some sad while others exercised the theory of patience, wanting to wait and see what the star will offer Barca.
However, FlyBarca presents to you – 10 Amazing facts about Barcelona's new man Arda Turan that so many fans do not know about.
10 Facts About Arda Turan
1. Arda Turan is the most expensive Turk in football's history. A title which he attained after his €12 million move from Galatasary to Atletico Madrid in 2011. However, his €41 million move to Barcelona has just surpassed his previous record by quite a considerable amount – and it's difficult to see it being topped any time soon.
2. Turan is the first Turk in history to win the La Liga title, doing it in the 2013/2014 season with Atletico Madrid.
3. He is a big fan of Lionel Messi and praised the Barca talisman openly in 2012 after Atletico's 0-0 draw against Barca. "Lionel Messi is out of this world, he's an alien. For me, he is the best player in the history of football." he said.
4. Arda Turan, at the age of 17, was promoted to Galatasaray's first team and was handed his professional debut by Gheorghe Hagi, Barcelona's ex-player.
5. Turan will be the 2nd player from Turkey to play for Barça, after the goalkeeper Rustu who played for Barca in 2003/2004. Note: Seyit Cem Ünsal didn't play a single official game for Barcelona's first team.
6. Arda Turan is only the 8th player to join Barcelona from Atletico Madrid. The first since Juan Carlos in 1991.
7. On 16 November 2008, Arda Turan collapsed during a game against İstanbul BB. After being rushed to hospital, he was diagnosed with cardiac arrhythmia – a disease of the heart (irregular heartbeat).
8. Following a successful UEFA Euro 2008 campaign with Turkey, Turan was ranked 8th in a list of the 100 Best Young Football Players in the World piece published by Spanish magazine Don Balón in July 2008.
9. On 11 May 2014, Turan was announced as a goodwill ambassador for the Khojaly Massacre. His ambassador activities are aimed to raise awareness about this issue and promoting world peace.
10. Turan was ranked 38th in "The 100 best footballers in the world" by The Guardian in 2014, the only player on the list to be born in Turkey.
Arda Turan – Fear The Beard! Welcome To Barcelona!!!