The 16-year-old Barca prospect has snubbed huge offers from Premier League giants to sign a 3-year deal with FC Barcelona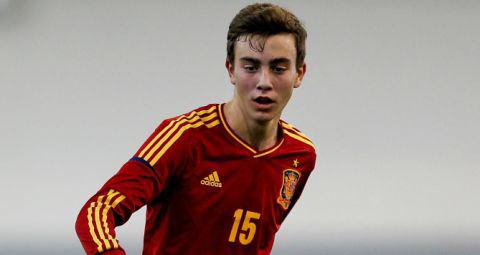 FC Barcelona youngster Oriol Busquets has penned a new three-year deal that will keep him at the club until 2018.
The 16-year-old midfielder will feature foe Barcelona's Juvenil A side which is just one level below the Barca B category.
Prior to his contract extension, Busquets have been heavily linked with a move away from Catalonia with EPL giants Arsenal and Manchester United offering him a lucrative contract for a move to England but the young midfielder has committed to Barca.
Oriol Busquets is – coincidentally – a defensive midfielder just like first team regular Sergio Busquets but the two players are no way related.
The 16-year-old is a tough DM and he scores a lot of goals and has similar movements to former Barcelona star Yaya Toure.
Arsenal are still strongly interested in signing him due to his promising talent. He is very likely to break into Barca's first team in the coming years and Arsenal will be quick to snap him up as they did in cases of Cesc Fabregas and Hector Bellerin.