The Turkey international has already been presented by the club and he had his first press conference as a Barca player saying he is happy to Join the best club in the world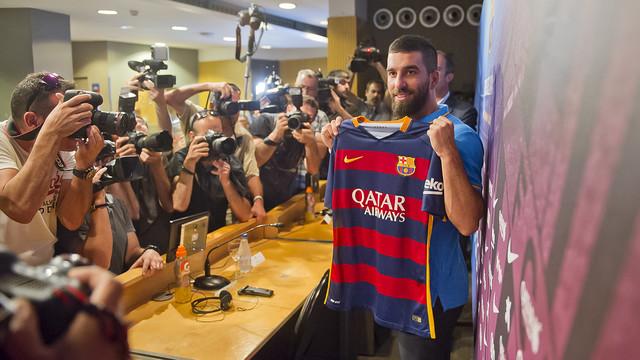 Barcelona new man Arda Turan has finally joined the Catalans. The star signed a 5-year contract and was officially presented by the Club.
The former Atletico man gave his first press conference as a Barca player and spoke on a lot of things of which the most significant was his dream to play for Barcelona and his readiness to give more than 100% for the benefit of the club.
FlyBarca brings you quotes from the 28-year-old's press conference cortesy – The Club's official website.
"I'm happy to come to the best Club in the world. I'll try to give the best I've got," he said.
"Those who know me well know that I've dreamt of playing for Barça since I was a kid."
Arda stated that he received lots of offers but ignored them all as soon as the offer he wanted – Barca's – came.
"I received lots of offers, but when I heard from Barça I pushed all the others aside."
Arda also spoke about Xavi with a task of being his replacement, Arda replied saying the Barca legend is irreplaceable.
"Nobody can take Xavi's place because he's one of a kind in the world of football. He'll always be a symbol of Barça."
The Best Arda…
"I've always liked having to really fight in order to win; I think here people will see the best Arda."
On Messi, Arda Turan had some nice words to say – as usual. Messi is the best footballer in history.
"I don't think that anyone has ever been like, nor will anyone ever be like Messi"
On his shirt number, an issue Barca fans have been contemplating whether he'll inherit Xavi's #6. However, Arda didn't sound bothered with the issue.
"I don't care about my shirt number. I'll decide that after talking to my new teammates."
Turan is already thinking about the Barca team and their aim – Succes.
"I'm a team player and I want to be a part of the success of the whole team."
Turan also stated that he spoke with Barca Manager Luis Enrique before signing and that he also got a message from Andres Iniesta.
"I spoke with Luis Enrique before signing and I also got a message from Iniesta."
Turan said he will use the opportunity of not playing until January 2016 to learn more about understanding football the Barca way.
"I want to get acclimated to Barça while I can't play so I can give everything I have," concludes Arda Turan.
Turan is now a Barcelona player but there is an option for the incoming president to sell him back to Atletico Madrid, a deal that almost certainly won't happen.