Over 5000 socios took part in a poll on whether they'd break the bank for Paul Pogba and more than 70% refuted the idea of paying €80million for the french man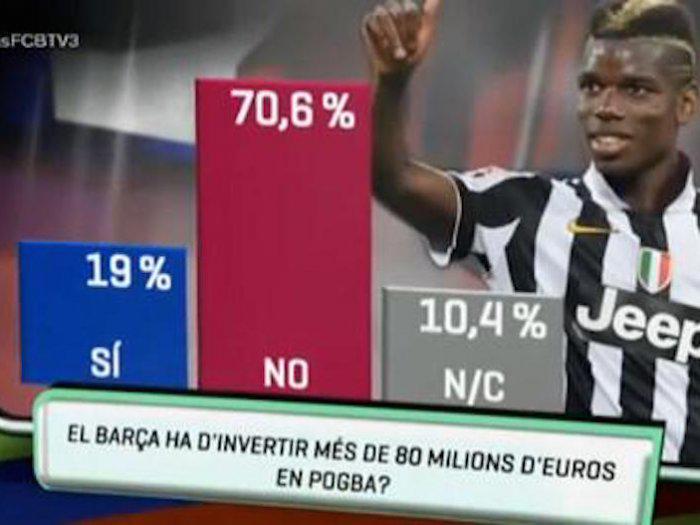 Paul Pogba has been linked with Barcelona for quite some time now but it seems the young midfielder will not be heading to Camp Nou anytime soon as club members feel paying €80 million for his service is ludicrous.
Barcelona's club members, the socios, have said they would not pay €80 million to bring Juventus midfielder Paul Pogba to the club.
According to a poll by TV3 and Radio Catalunya, which over 5000 socios took part in, 70.6% of the club members believe the price (€80 million) is too much for the French international and wouldn't pay that much for his services. Only 18.9% percent said they would pay that amount, while 10.4 percent didn't respond to the poll.
With so many FC Barcelona socios against the deal, it could mean newly elected president Josep Maria Bartomeu will not consider his transfer as Juventus aren't ready to sell for a lower price.
Jordi Mestre has said the club will sign the midfielder if Luis Enrique asks for his arrival to the Camp Nou but Juventus have already rejected an €80 million offer for the player.
Joan Laporta, who missed out on becoming Barcelona president to Bartomeu, had previously said that he would bring Pogba to the club if elected president with the player's agent Mino Raiola, confirming the claim.
Pogba was on the Juventus side that lost to Barcelona in the 2014-2015 Uefa Champions League final and has said playing alongside Messi would be a dream come true.