The Barcelona coach does not want any player to leave the club before the January transfer window and has asked both players to stay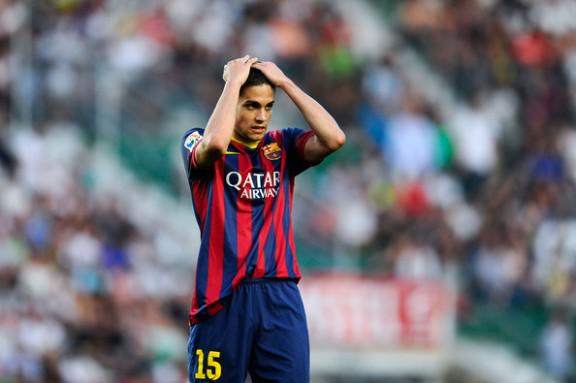 Barcelona boss Luis Enrique has decided to do all that is within his power to retain all of his treble-winning players, which was only the second in the history of the club, Catalan Newspaper SPORT claim.
Lucho, who just extended his contract with the club is very satisfied with all his players and does not want any to leave until January 2016 when the FIFA-imposed transfer embargo ends and Barcelona are allowed to register other players.
With the ban still active, Enrique's priority is not to bring in new players, but to retain what he already has within the Barcelona squad.
Aside from the purchase of Aleix Vidal and the negotiations for a midfielder (Pogba precisely) who should fill in for the space Xavi left, Luis Enrique believes that the dressing room won't suffer as a result of no further changes during this transfer window.
Enrique battles to keep hold of two players whom he considers very essential to the team, Pedro Rodriguez and Marc Bartra, the former which just penned a new contract extension but could still leave.
The Spanish forward has big clubs interested in him, with the likes of PSG, Inter Milan and other Premier League clubs prepared to pay €20 million euros for him.
Regarding Bartra's case, there are also numerous clubs interested due to the rumours of a recent drop in his release clause. The defender is could now leave for as low €12 million until June 30 and is subject to interest from so many Italian clubs with English clubs also monitoring him.
SPORT claim that Lucho has made telephone calls in recent days in order to retain both players. He wants Pedro and Bartra to know that he has faith in them and can rely on them as two important members of his squad.
Enrique has let both players realise that he believes in them and they will get more playing time next season. Most importantly, if they take the decision to leave, it isn't because they don't feel wanted at the club.
"Luis Enrique's personal plan is to not participate in the transfer market until January. Only then will the coach look to address the needs of the squad. As well as finding the required reinforcements, nobody will be leaving, including anyone from Barcelona's forward line." a statement from SPORT reads.