The Barcelona forward is the fourth highest earning sportsman in the world according to forbes with a sum of $73.8million.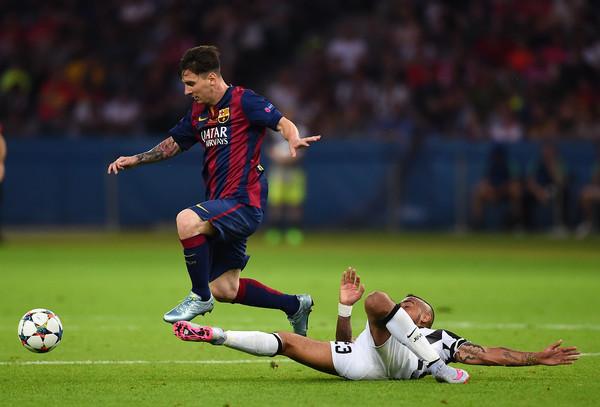 Barcelona and Argentina forward Lionel Messi has been ranked as the fourth highest paid athlete in the world in 2015 behind the rich boxing duo Floyd Mayweather and Manny Pacquiao with Real Madrid's Cristiano Ronaldo also ahead of him.
Mayweather and Pacquiao are on another money league as their earnings are far above the others with $300m and $160m respectively.
Real Madrid talisman Cristiano Ronaldo is the highest paid footballer but 3rd highest paid athlete earning $5.8m more than his arch-rival Messi.
Apart from Cristiano and Leo, Zlatan Ibrahimovic and Gareth Bale are the only footballers to make the top 20 in 14th and 18th with earnings of $39.1m and $35m respectively.
The earnings are not based on salaries only with sponsorship and endorsement also included.
Top 20 Highest Paid Athletes In 2015
1. Floyd Mayweather (Boxing) – $300m
2. Manny Pacquiao (Boxing) – $160m
3 Cristiano Ronaldo (Football) – $79.6m
4. Lionel Messi (Football) – $73.8m
5. Roger Federer (Tennis) – $67m
6. LeBron James (Basketball) – $64.8m
7. Kevin Durant (Basketball) – $54.1m
8. Phil Mickelson (Golf) – $50.8m
9. Tiger Woods (Golf) – $50.6m
10. Kobe Bryant (Basketball) – $49.5m
11. Ben Roethlisberger (American Football) – $48.9m
12. Rory McIlroy (Golf) – $48.3m
13. Novak Djokovic (Tennis) – $48.2m
14. Zlatan Ibrahimovic (Football) – $39.1m
15. Lewis Hamilton (Formula One) – $39m
16. Ndamukong Suh (American Football) – $38.6m
17. Fernando Alonso (Formula One) – $35.5m
18. Gareth Bale (Football) – $35m
19. Jon Lester (Baseball) – $34.1m
20. Derrick Rose – (Basketball) – $33.9m
YOU MIGHT ALSO LIKE:
Barca Won't Pay €4m Vermaelen Fee To Arsenal
10 Barca Players Make UCL Squad Of The Season
Messi Voted Best Player Ever In The UCL