It has been almost two months since the Messi dribble on Jérôme Boateng during the first leg of Barcelona's UEFA Champions League semifinal win against Bayern and the defender has spoken on the incident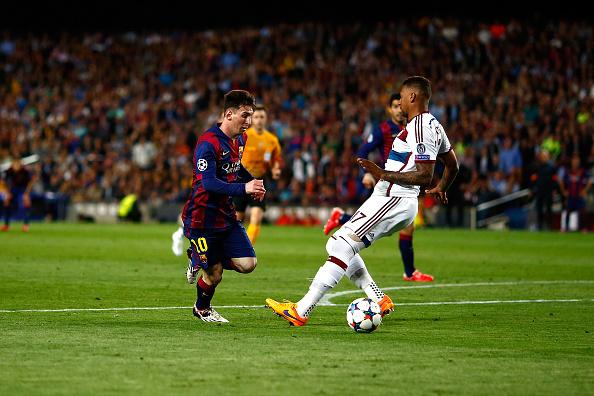 Barcelona won the game 3-0 in a brilliant night by the 28-year old superstar. The Argentine dazzled but the greatest moment in the match came during Barcelona's and Messi's second goal, when he did something not suitable for kids to see.
Messi got the ball on the left flank and was one-on-one with the german defender but Boateng could not cope as he fell to the floor like a sack of potatoes after Messi tricked the ball away from his reach.
That humiliating dribble instantly became a worldwide sensation, given outrageous media hype.
However, Boateng isn't upset with that moment and as a professional, does not think about it all the time – according to him.
In an interview with ESPN FC, Boateng didn't have any problem answering the question about the dribble but he really thinks it's a funny moment.
"That [the dribble] doesn't really affect me. I was laughing at myself. When you fall down or slip in a situation and somebody scores a goal, it's normal. These things happen; it happens to me, it happens to other players, I don't care about these things.
"For me, he's the best player in the world. That's football. Sometimes you look bad or something happens. I'm a defender, that doesn't kill me or anything." the defender told ESPN.
Boateng also commented on Bayern's 5-3 aggregate loss to Barça in the Champions League semis that saw them crash out of the tournament and he believes the Catalan's triumph was deserved but Bayern's large injury list had a big influence on the result.
"Of course it was a bad loss for us, and we did well for 75 minutes, and then against a team like this, it's difficult. Especially the second goal was a great goal from Messi. At the end of the day, you have to continue your hard work, and next season I will try with the team again to win the Champions League. Sometimes you lose, sometimes you win, sometimes you are unlucky, but that's life.
About the influence of Bayern's injured players on the result, he said:
"I don't want to have an excuse or something, but of course it's a big influence for us, for our team. We have been missing also David Alaba, who is a key player for us, and Arjen and Franck. It's like when you take Messi, Neymar and Iniesta away from Barcelona. But like I said, that's football. The moment we didn't have them, we tried our best. We lost against a better team over two games, so next season I hope we're going to meet them again and then we try with a different team."
Barcelona went on to win the Uefa Champions League trophy after beating Juventus 3-1 in the final.