The Barcelona talisman has been in incredible form this season scoring 58 goals and giving 27 assists. He will help Barca when they face Juventus in the UCL Final and will break lots of records if he manages to score against the italian giants.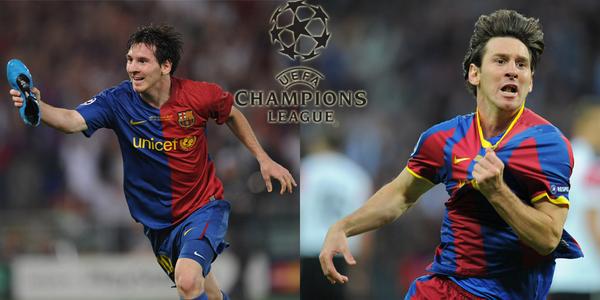 The Argentine has so far scored 10 goals in this season's Uefa Champions League tournament and has the chance to add to that tally on Saturday in Berlin. Prior to the game, FlyBarca brings you a list of 7 Records Messi Will Break If He Scores Against Juventus. Enjoy!

7 Records Lionel Messi Could Break If He Scores Against Juventus.
1. Player With Most Number Of Goals In Uefa Champions League's History.
As things stand now, Messi has scored a total of 77 goals in his UCL career same with his rival Cristiano Ronaldo. The Barcelona man will overtake Ronaldo if he scores just a goal on Saturday.
2. First Ever Player To Score 3 Goals In Uefa Champions League Final.
No player in the history of the UCL have scored more than 2 goals in the final match. Messi scored in the 2009 and 2011 finals against Manchester United and could become the only player to score 3 goals in the Epic showdown.
3. A Record 5th UCL Top Scorer Award.
Messi is currently leading the CL top scorers' chart with 10 goals, tied with Cristiano Ronaldo. If Messi scores and Neymar fails to score more than two goals, Messi will officially win the award for the 5th time in his career with 11 goals except if Juventus' striker Carlos Tevez scores 5. No player has more than 3 UCL top scorer award.
4. Only Player To Score 11+ Goals In 3 Different Uefa Champions League Seasons.
Messi scored 12 goals in the 2010/2011 UCL season and 14 goals in the 2011/2012 season. With a goal on Saturday, he will become the first player ever to score more than 10 goals in three different UCL seasons.
5. First And Only Player To Score In Three Different Uefa Champions League Finals.
The Argentine has already done it twice with Barca in 2009 and 2011 and will set a new record for scoring in three different CL final matches if he manages to score in Berlin.
6. First Player To Directly Contribute In 100 Goals For A Club In UEFA Champions League's History.
Messi has directly contributed in 99 Uefa Champions League goals with 77 goals and 22 assists. He could raise that number to a century if he scores or assists against Juventus.
7. First And Only Player To Ever Score In Three Consecutive Uefa Champions League Final He's Played In.
Messi has won 3 UCL titles but have played in 2 finals after missing the 2006 Paris triumph through injury. Moreover, He has scored in the previous 2 finals he played in and will set a new record of being the first player to score in 3 consecutive finals in which he featured.
All these prestigious records could be broken and set by the Barcelona Number 10 if he scores just one goal on in the Champions League final on Saturday. 1 goal, 7 records! UNREAL!
YOU MIGHT ALSO LIKE:
7 Reasons Why Barcelona Will Beat Juventus To Win UCL
Enrique Names 26-man Squad For UCL Final Clash
Lionel Messi Voted The Best Player In Champions League's History