Barcelona take on Juventus tonight in an highly anticipated Uefa Champions League Final clash in Berlin and FlyBarca presents to you some facts and stats you'd want to know in the build up to the game.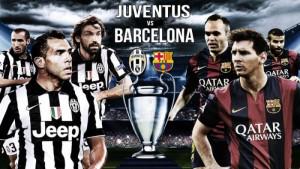 With the game set to kickoff in few hour's time, FlyBarca brings you 15 beautiful facts about the Barcelona-Juventus Clash. Enjoy!

15 Facts About The Barca-Juve UCL Final Clash.
1. Only 7 European teams have previously won the treble. Celtic 1967, Ajax 1972, PSV 1988, Manchester United 1999, Barcelona 2009, Inter Milan 2010, Bayern Munich 2013. Barca or Juventus will be only the 8th team to win the treble in the history of the European Cup/Champions League.
2. Juventus have never won the treble while Barca have the chance to become the first team in history to win the treble twice.
3. Juventus have played a total of 58 official games this season and no opponent have scored more than 2 goals against them. Infact, only one team have scored more than 2 goals against Juventus in their last 113 games. Astonishing!
4. The Messi-Suarez-Neymar trio have scored a total of 120 goals in all competitions this season, more than the entire Juventus team. Infact, out of the 97 teams in Europe's top 5 leagues, only Real Madrid 162, PSG 122 and Bayern Munich 123 have scored a higher number of goal than MSN. Wow!
5. Xavi will play his 900th career game if he features today. His 150th UCL game. A record.
6. Barcelona knocked out the 2013/2014 Champions of England (Manchester City), France (PSG) and Germany (Bayern) on their way to the final. If they beat Juventus, they will be the first team to beat the Champions of 4 of Europe's top 5 leagues.
7. Italian teams have lost 14 European Cup/UCL finals, more than any other country. Juve have lost 5 while Barca lost 3.
8. Luis Enrique could become the 4th manager to win the treble in his first season with a club after Kovacs (Ajax), Hiddink (PSV) and Pep Guardiola (Barcelona).
9. Barca could become the first team ever to win 2 different UCL scoring in every single game of the tournament. They did it once in 2010/2011.
10. The last two European Cup/Champions League finals decided in extra time were won by spanish teams. Real Madrid 2014 vs Atleti and Barcelona 1992 vs Sampdoria.
11. Barca are the first ever team in CL history to reach the final after scoring 2+ goals in all their away games.
12. Lionel Messi has 5 Uefa Champions League hat-tricks in his career, Juventus have 4 UCL hat-tricks in their history.
13. Juventus are the team that got the most red cards in Uefa Champions League's history. A total of 20 red cards.
14. Luis Enrique is the only Barca player to have scored in the Olympiastadion in Berlin. This happened on the 23rd of November, 1999 against Hertha BSC.
15. Samuel Eto'o is the only player in history to have won the treble twice (Barca 2009, Inter 2010). Pique, Alves, Busquets, Xavi, Iniesta, Messi, Pedro and Martin Caceres could join him.
The scintilating clash will take place today at 7:45pm CET.
Please don't forget to share this post and post a comment on what you think will happen in the tie.

YOU MIGHT ALSO LIKE:
Lucho names 26-man squad to face Juventus
7 Records Messi could break with a goal against Juve
7 Reasons why Barca will beat Juve to win UCL
Messi voted best UCL player in history