Manchester United manager Louis van Gaal says Marcos Rojo does not need surgery on his dislocated shoulder but will be out for around six weeks, reports suggest.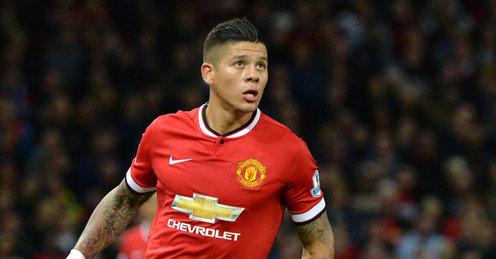 "We don't need to operate on him, which is a relief.
"But with this injury it is very difficult that it shall not happen again. And that is the problem.
"We have always a risk that it happens again. "Conservatively, it can be less than six weeks. If we have to operate, 12 weeks."
With the Argentine International injured and Chris Smalling sent off last weekend against City, Michael Carrick partner teenager Paddy McNair or the inexperienced Tyler Blackett in defence against the Eagles.
When asked if he would enter the transfer market for a defender in January, Van Gaal replied saying: "It is clear that a lot of things happen and you can judge better in good times than you can in bad times.
"Maybe you are right (about buying in January) but we have to see that."
Meanwhile, the ex Dutch manager admits he feels 'lousy' after his side's poor start to the season has left them 10th in the Premier League table, four points off a Champions League spot.
"It's not good enough," he said. "I feel, myself, very lousy for the fans firstly, but also for the board because they have a great belief in me and my players and my staff and when you have 13 points out of 10 matches you are not doing well."