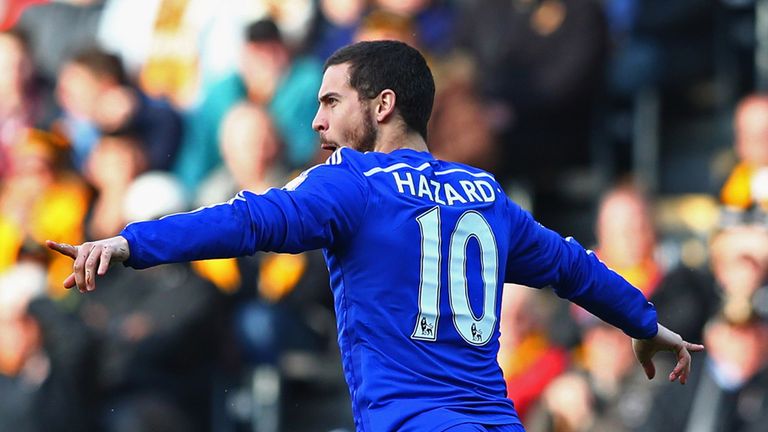 Chelsea stars Eden Hazard and N'Golo Kante, as well as Manchester United striker Zlatan Ibrahimovic, are among the six candidates for this season's PFA Player of the Year award.
They are joined on the shortlist by Harry Kane of Tottenham Hotspur, Everton's Romelu Lukaku and Arsenal forward Alexis Sanchez. Both Kane and Lukaku are also nominated for the Young Player of the Year.
Hazard, who was named best young player in 2013-14 and won the senior award in 2014-15, has bounced back from a poor season in the last campaign to be a crucial figure behind Chelsea's march towards the Premier League title this season. He has scored 14 league goals this season, and provided five assists, to put Chelsea seven points clear of Spurs.
But Kante is the heavy odds-on favourite with the bookmakers to win after being on the shortlist as a title winner with Leicester City last season, when teammate Riyad Mahrez topped the voting. Credited as the key signing to transform the Blues from a team which finished 10th into runaway leaders, his energy in the middle of the park has been the driving force.
Kante is also on course to become the first player to win the title with different clubs in successive seasons. Mark Schwarzer did it the other way around with Chelsea and then Leicester last season, but his win with the Foxes doesn't officially count as he didn't qualify for a medal after making no appearances.
Ibrahimovic, at the age of 35, has had a stellar first season in the Premier League with Manchester United, who are hoping he will extend his contract. He has netted 17 goals in 27 Premier League games, with another 11 in other competitions. He scored two goals, including the late winner, against Southampton in the EFL Cup final and still hopes to shoot United to success in the Europa League and a top-four finish.
Kane, who won the young player award in 2014-15 and the Golden Boot last season, is again on the shortlist after scoring 19 goals in 22 games for a Spurs side that is trying to chase down Chelsea. He continues to be one of the most prolific strikers in Europe despite having two injury layoffs this campaign.
Lukaku leads the Premier League scoring chart this season with 23 goals, four ahead of Kane, and has also provided six assists making him the player involved in most goals, 29.
Sanchez, meanwhile, is just behind having been involved in 27 goals with 18 scored and nine set up — but Arsenal's dip in form after the turn of the year makes him the outsider of the six.
Kane and Lukaku, who will both turn 24 in the coming weeks, are joined on the young player award by by Tottenham's Dele Alli, Leroy Sane of Manchester City, Sunderland goalkeeper Jordan Pickford and Burnley centre-back Michael Keane.
Alli, who turned 21 on Tuesday, has had another incredible season with 16 goals scored and five assists and, like Kante, is the huge favourite in the betting to retain the award he won last season.
Pickford, 23, has had an excellent first season in a struggling Sunderland side, called into action following an injury to Vito Mannone and, barring a short injury layoff, is now installed as the club's No. 1. He was also called into the senior England squad for the first time but still awaits his full debut.
Keane, 24, did make his England bow last month, winning caps against Germany and Lithuania, and has been a rock in a Burnley defence that looks set to secure a second successive season in the Premier League.
Sane, 21, has come of age in the second half of the season, scoring seven goals in all competitions having netted only once before Christmas.